UHURU sails up the East River, NY.

UHURU
Steve Powell
Wed 14 Oct 2009 20:03
38:58.5N 76:29.07W

Or " The Taking of Manhattan"

One of the highlights of this whole trip has to be sailing up the East River into Manhattan. The official pilot book describes it as follows:

"The East Rivers reputation as a tricky passage is well deserved. It's not and never will be a popular spot for casual sailing. In fact the East River is not a river at all. It's a 14 mile long tidal gate that's narrow and twisty with eight bridges that cross it and a tide that run at up to 6kts".

The toughest section is dog leg called "Hell Gate" named by the first European the navigate the East River, Dutchman Adriaen Block (of Block Island fame).

"The waters seem to boil at Hell Gate, where the river bends and the Harlem River joins from the northwest" Up until 1885 the currents use to run at up to 10kts, which was responsible for many a shipwreck. Then engineers blasted a large rock out of the middle of the channel in what was the largest manmade explosion ever created right up until the first Atomic Bomb in 1945.

So much for the scene setting. Our little adventure started on a freezing cold and wet morning as we left Stamford, Connecticut, at dawn. The winds and the tides were in our favour and we set off in high spirits, although a little cold.

With the winds right behind us we goose winged (one sail out each side for you land lubbers) down Long Island Sound towards the entrance to the East River and our first bridge.



The girls were still in good spirits, despite the cold. L-R: Susie, Beans and Anita.

It doesn't matter how much homework you do with bridges and you know in your heart that you have plenty of room to get under, it's always a heart stopping moment as you get closer and see your 95ft mast getting closer and closer to what looks like a very low bridge.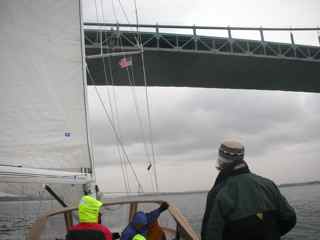 Arrrrrgh!!

We hadn't planned to do the East River under sail, motoring is generally the preferred option, but as we progressed with the wind behind us and a favourable tide our confidence grew and with many quick gibes, and sometimes just under main, my 'amateur' crew, sorry guys but it's true, performed like top pros. And the girls kept up a constant stream of 'oohs & rrrr's'. Which we assumed we're referring to the 'fit' crew.




The early section of the river was pretty rough as we passed Rikers Island, the state penitentiary and Harlem but our first true view of Manhattan was quite special.

In the end Hell Gate proved to be a pussy cat, we came across it very quickly having just gone under two bridges very close together. Next thing we were heading directly towards Mill Rock (in the middle of Hell Gate) at about 11kts. A couple of 'calm' instructions to the crew, (If you believe that lets face it your gullible!!), and we performed a perfect gibe in the middle of Hell Gate and were spat out the other side in an instant. It was so quick and we were kinda busy, sorry but we didn't get any pictures. But I can tell you, even the girls helped us at that point

We were then careering down a very narrow section of the river at 11-12kts with rush hour traffic jams on either side.



Passing the United Nations at speed with a brisk tide under us.



With just two bridges to go, Manhattan Bridge and Brooklyn Bridge we were feeling very chuffed with ourselves, and just carried on sailing.



UHURU sails under Brooklyn Bridge.



It was so cold that even our first sight of the Statue of Liberty could not drag the girls out from under the spray hood.



UHURU sails passed Lower Manhattan.



UHURU and Wall Street.



With our Blue Ensign and RTYC burgee flying UHURU enters the gates of the Good Old US of A.

To actually sail down the East River was never my plan, but sometimes the moment is right and it all comes together. The trick is to recognise that moment and seize it with both hands. We did just that, and thanks to a game and fearless crew we had a very special day.

Thanks to David & Anita, Paul & Suzie and of course the lovely Beans, if I do nothing else in my life I will always remember that day.

Luv to all.

Captain Fluff

PS. The observant amongst you may be wondering how we managed to get some of these superb photos of UHURU sailing into Manhattan. Fortunately my brother Mike flew in from LA a few days later and we re-enacted 'The Taking of Manhattan' for the cameras. A legitimate journalistic ploy.


Steve Powell (Owner/Skipper)
UHURU of Lymington
steve {CHANGE TO AT} uhuru {DOT} mailasail {DOT} com
Mob: +44 7774 423 449
Boat Sat Phone: +870773150353

UHURU Blog Site go to: http://blog.mailasail.com/uhuru




---