Backpacking in Trinidad de Cuba

UHURU
Steve Powell
Thu 11 Mar 2010 22:00

When we all met up in Cienfuegos we took a day or two to reprovision with any fresh veg we could get and beer & coke. Then Lucie started to pressure us on "our promise".

We had promised that we would "backpack" the way her and Carrie had when they'd last been here. We were to travel without any hotel bookings and just hope to find a local 'Casa' home to stay in. Beans and I were a little sceptical, pointing tout that we weren't 18 anymore and that we did like a few creature comforts. But we crumbled under the forceful and disapproving eye of Lucie. We've all seen it!!!

So the next day we headed of to Trinidad de Cuba, a beautiful coastal town about 60 miles east of Cienfuegos. She did make one concession she let me hire a mini bus rather than get the bus. But we did genuinely arrive in Trinidad de Cuba the day before New Years Eve with no accommodation and no idea of where we were going. We all got out of the mini buss, paid him off and stood there with our assorted bags.

Long pause for 'What do we do now?'

The girls leapt into action and knocked on the nearest door enquiring in Sophie's very impressive Spanish, courtesy her South America travels, do they have room for a family of five? Well it was like a well oiled 'backpacking' machine. We were invited in and sat down in their front room with cold drinks only to be told no they didn't have any room but they were sure that they could find a friend who did. Emissaries were immediately dispatched in all directions to inquire for us. One of the biggest problems we are told that there are five of us and most Casa's are only licensed for four. If they found someone to take us all they would have to 'bend the law'.

We'll 'bend the law' they did and an hour later we were happily sipping mojitos in Casa Maria. We had two good sized double rooms each with en suite shower & loo. Plus the full use of a massive roof top balcony and dining area all for $60 a room including full breakfast and dinner.



Carrie takes in the afternoon sun, while Lucie studies hard!!

When it came to dinner Maria, of Casa Maria, offered us Chicken, Fish or Lobster. We all immediately plumped for lobster, as you would. But I did put rather a dampener on it when I pointed out that this was an 'all in dinner' so don't build your hopes up too much.

Wrong again!!!




Casa Maria served up the biggest Lobster tails I have ever eaten. They didn't bother with the rest of the lobster just the best.

The next day we planned a day of sight seeing and just chilling in Plazas before having New Years Eve Dinner with Maria's family. We'd been promised a traditional roast pork dinner for New Years Eve plus all the traditional Cuban trimmings along with a lot of salsa dancing. So looking forward to the day we had a little breakfast and prepared ourselves, when our peace was shattered by the loudest and worse screaming you could imagine. All the girls rushed out of their rooms looking scared and a little worried. "What's happening? What's that?" I followed the screams and looking over our beautiful balcony I saw the 'family' casually slaughtering a large pig who was not happy at all. Well talk about welcome to the real world. The girls were a little subdued after that, but all seemed to enjoy their dinner later that evening.




Beans was very popular in her 'yellow/something' dress as she wow'd them with her salsa skills. Lucie found a new dance partner, sorry Will but somebody had to tell you.



And after seeing the New Year in with 'the oldies' at the Casa de la Musica, the girls all went clubbing in a cave.

Well this is rapidly turning into a boring Facebook entry of what I did on my summer holidays so I am going to leave you with just a few images from Trinidad de Cuba. It is the most beautiful town and a must visit if you can.




The main Plaza, art everywhere.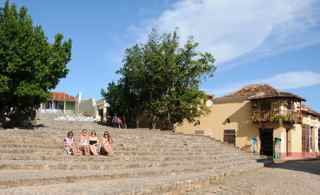 The steps at the 'Casa de la Musica'. Public transport and Beans is serenaded, again!

And finally for all my friends at the Royal Thames Yacht Club who are wistfully thinking about wouldn't it nice to refurbish the club house.....




This is the newly refurbish Cienfuegos Yacht Club, Can we do it like this??


I am catching up fast now, question is can you keep up with me.

Luv to all again....


Steve

11 March 2010


---