More of the same... But with Canapés.

UHURU
Steve Powell
Sat 5 Mar 2011 13:58
51:49.36S
73:45.55W

When will it ever end? I hear you say, 'How much more fun and adventure can this guy bore us with?' Well it just goes on and on...... :-)

Last time I blogged we had just arrived in Puerto Natales. We had a week scheduled there to do the change over, re-supply and some maintenance. So while Chris and I were working hard, Mike and Botty went..... Yes Fishing!! Again!!. This time on some of the finest trout streams in Patagonia. They had a ball. But you've seen enough photos of them with silly grins on their faces while holding a large fish to the camera. So enough of that. Suffice to say it was 'More of the same'.

We rented a Pickup truck while in Natales and Botty and I drove over to Punta Arenas to drop Mike off at the airport and pick up 'Le Girls', the Lovely Beans and Botty's "Current Wife", Willie. We planned a trip to Torres De Paines, the famed Patagonian National Park, the next day. But a combination of Beans and Willie spending most of the day re-arranging the saucepans in the galley, Botty getting us lost on route, and me nearly running out of petrol, meant that we didn't quite get there, we saw the famous mountains, but couldn't actually make it into the park. But we figured that where we were going was going to be equally spectacular, but without the tourists. So we gave up and headed back to the boat, where we had more super fresh scallops. I should say a word or two about the people in Puerto Natales, they were amazing, you really couldn't find anymore friendly, hospitable and generous people. The fishermen on the dock kept us supplied with fresh scallops, helped with the boat lines, getting bits and pieces we needed, and one occasion when a Frenchmen's boat was getting smashed to bits on the pontoon in 45-50 knot winds, they came out in one of their boats and managed to haul him off the pontoon against the wind and tow him the safety. (My opinion of this particular French sailor, who was warned by me and every fishermen on the dock that where he was tied was dangerous in a big NW blow, shall remain 'off the record'. SAFF). And the fishermen, they never once asked us for a penny. We, of course, contributed the odd beer to the party.



'Le Girls' have arrived. Beans as usual looking like she has come straight out of the pages of Vogue. Willie discovering the pleasures of the flesh, Scallops that is!

We said our goodbyes to Natales and set off at dawn the next day. Whereas, sunsets have always been a feature of this blog, and in fact created the now world famous acronym, NABS, 'Not Another Bloody Sunset', down here it's all about sunrises. We have had some quite spectacular sunrises.......



Dawn over Puerto Natales


Dawn as we head up Canel Union.

Our first big adventure with the girls was to head up the Estero De Las Montanas, a 28 mile glacier lined gorge than runs right into the southern end of the Torres Del Paines. We managed to get up most of the way when the weather turned on us. We then had to find a safe hide away, which we did about three quarters of the way up, right next to a glacier. It was a tough anchorage for the girls first time. After a number of tries we ended up with four long lines out to the shore and two anchors. A little overkill possibly, but much appreciated as we sat there for 36 hours with winds howling around us from almost every direction.



We found a small niche to hide in for 36 hours next to a glacier, just 3 meters off the beach. 4 lines ashore AND two anchors! We didn't move despite the winds.

We did manage to go exploring during a short lull in the wind, venturing in the tender up a 1 mile offshoot that ended at right at the foot of a glacier. The weather was horrific, but the girls put on a brave face, and Beans added some more 'lippy".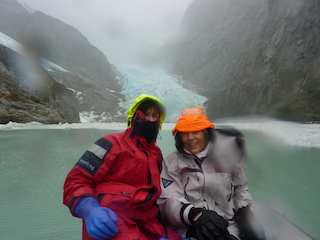 The girls braved the weather, but Beans insisted on more 'Lippy' before the "Photo Shoot".



Not for us the air-conditioned tourist coaches, we do Torres Del Paines the 'Ard way. Pity we had to maroon Chris on a small rock right at the head of the gorge. Maybe next time he'll get the Canapés right!

We left our little hide away yesterday morning in less than perfect conditions. We had about 20 miles to run going south with the wind behind us then we would head NW directly into the wind. The run south back down the Montanas Gorge was Williwaw Alley, one after the other all the way down. You could see them coming but there was nothing you could do. We ended up dropping all sail, because you didn't know which direction the winds would be coming from, one second to the next. At one point under bare poles, no sails up, we were hit by a pronged gust of 61 knots (70mph) which healed us over as if we were under full sail. That's Hurricane winds, all in a narrow channel.

So I guess the question on everyone mind now is..... "Is Beans enjoying herself?"

What do you think? .................. Of course she is!! :-)

Luv to all

Steve & the Crew.

5th March 2011





























---