Guest Blog: Beans of Patagonia

UHURU
Steve Powell
Wed 16 Mar 2011 18:07
54:32.70S
71:54.55W

Caleta Brecknock

Hi All

Well the good news is the sun is at last shining, the bad news is I am going to attempt a blog. Steve hasn't allowed me near the computer to do this in case I was a little to negative about things. We have certainly had everything put to us from every element it seems.

As you all know Willie and I arrived here safely to find our hairy husbands waiting for us, us looking slightly dishevelled from a very long three flights to get to them and them looking dishevelled from too much the night before!!! After our night in a hotel we set of for the boat and to meet Chris who I hadn't met before. On the way we stopped of at a little shack for a coffee and then a little road trip of a couple of hours to get to Puerto Natales, where the boat was waiting, the sun was shining at that point. When we arrived the boat was immaculate and canapés at the ready, all was looking good.

The next day we were of on a road trip after having vitalled up the boat with all the provisions that one needs, for a month at sea with no shops at all!. I think we have got that right but have a feeling we might run out of gin and butter before we get to civilisation, so not quite so good!! Before heading off in the boat we planned a road trip to go go and see Torres Del Paines, the famous chilean National Park. Steve taking on board that he had to drive like Emmerson Fitapaldi (for those of you who remember him as a racing car driver) so 90 miles an hour round the bends and of road, luckily there are very few cars if any where we were. Anyway we were all obviously talking to much as we missed our turning and went another 60 miles out of our route leaving us too short of petrol and too short of time to arrive where we wanted to be. Anyway it was fun, we just didn't get there.

Of we go, first stop a glacier. Well getting there was gorgeous we saw seals basking in the sunshine on a little island, sunbathing as they floated along side of the boat and loads of birds, one bird that doesn't fly but propels himself across the water looking just like a fairground specimen. The scenery was stunning, we anchored up when we got to the glacier and went on a little dinghy trip to see it. We couldn't get there the first day so tried again the next and although it was wet and cold we made it and Chris (as only a young boy would do) jumped of onto the base of the glacier to bring back on board a lump of ice that was probably thousands of years old, for our G&T's. This seemed the start of something good.

What happened after that, well it all seems an age ago now although only two weeks, we have had the most dire weather. Our original plan to sail up to Puerto Montt we scrapped, the winds were not in our favour and it would have been really uncomfortable just a passage from A to B. Well we knew that big winds were coming so we went into a small bay where it was meant to be protected. We anchored up, three ropes out tied to boulders and trees and our anchor. Just having a cuppa and then all hell let loose, winds that you wouldn't believe were hitting us at a different angle to what we expected, our lines that were held on the bolder had come loose . Up on board we all ran, Steve at the helm, Botts and I on the ropes and Willie and Chris on the dinghy. I wasn't sure whether to laugh or cry I was so frightened. We were being lashed at from all angles, the winds of 60 -70 knots throwing us onto the floor at times as we tried to pull in the ropes and add more to the ones already out. Steve seemed quite chilled by it all, although I learnt later that was not the case and it was the worst that he had experienced on the boat. Typical that I was on board when it happened, me the not real sailor of the party. Anyway we managed to hold the boat secure and although it was rough we felt as if we were safe. ( I might add that the Chilean navy are always on hand at checking to see where you are, we have to email daily to them our whereabouts which is very comforting. The other day they sent out a message to look out for a French boat that they hadn't heard from for three days). Back to the story. We then settled down to dinner and then a movie, then we had the most unbelievable hail storm with hailstones the size of malteesers hitting the boat hard and forming an ice pack on the windscreen. Steve and the boys took turns being on watch all night in case things went haywire again. Now the beauty of being a galley slave is that you don't have to do these night watches if you don't want to. Well the next morning we awoke to a Mayday from Buzz and Dawson telling us a Tsunami was going to hit the Chilean coast at 9pm that night, its all or nothing with us that's for sure. Steve decided we would get out ASAP, although we had turned back to go a different way we were still near the Pacific Ocean and it could have affected us. I tell you after 9pm that night I was very relieved that we were safe at last. Any winds that are thrown at us now are nothing in comparison to that night. We reminisced the next day about other things that we have been sent to try us and since being married we have had The big Northridge Earthquake in LA, the Rodney King Riots, Mudslides and Fires so what's a little wind when you've been through that lot!!!

Well I wont go into all the bits in between because we really have had some shitty weather and its such a shame because when the sun comes out its beautiful here.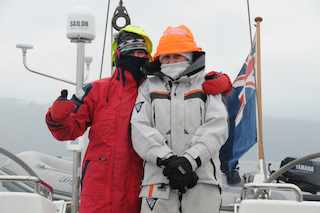 Willie & Beans braving the weather. And taking their turn on watch.

However another day another dollar, Sunday wasn't too bad a day. We did quite a few miles and ended up in a beautiful little bay, with Willie and I getting off the boat (first time in two weeks) and going for a two minute walk on the waters edge, well better than nothing.



We let Beans and Willie row ashore for their first landfall in nearly two weeks. They managed to come back with a bunch of wild flowers.

The following day we anchored and tied up in Caleta Queta, just off the Magellan Straits right next to a waterfall, our water maker has broken down we are on water rationing at the moment. However. The Boys set up a pipe and funnel from the fall and siphoned water into our tanks, very industrious of them. Showers at last!! We had two very dear little fishing boats anchored up in the bay with us, so not on our own as normal.



The Appliance of Science: Using a little school boy physics we filled our water tanks from a local waterfalls. Self reliance is a must around here.

We had to leave early in the morning as another big weather front was coming in, we did 60 miles and ended up in the most beautiful bay, Caleta Brecknock, the sun was shining which it wasn't meant to be and the anchorage beautiful. Steve and Bots and Mike had tried to go there before but there had been three boats in the way so had to come out again. Anyway we got in and tied up and anchored up, an hour later in comes another boat. Aussie Steve, in Xplore, a converted 60ft Challenge Boat, well the boys had met him in Ushuaia before they met us. Really nice guy with his girlfriend, Audrey, and some Australian charter guests. Well they came and snuck in next to our boat, it was raining then and getting late and Willie and I decided we would walk the next day as it looked as if we could go for a little stroll around.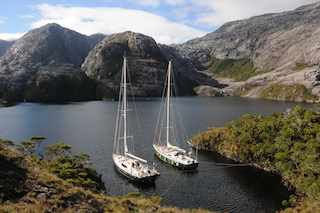 UHURU & Xplore in Caleta Brecknock with the granite mountains behind.

Well Aussie Steve said we could join him and his party for a hike the next day before the weather came in, were we up for that. Yes we sure were, we definitely needed to get rid of some of the excess that we had been carrying around for the last two weeks, well the next morning we are all set, we don't have the hiking gear so with boat boots on the feet, boat jackets and far to many thermals on, we set off. We asked Aussie Steve how long we would be out and he said about 4 hours, Willie and I looked at each other thinking where can we go for four hours, when we took the rib to the other side of the bay and started climbing straight up!. We were not going for a little hike but a great big mountain climb which I can tell you was very hard, very scary at times and very tiring at the end of it. We climbed on all fours, holding on to roots and rocks to climb up to the top and across the ridge of the mountains.

The views at the top were absolutely stunning with little pools on the edge of the mountains like infinity pools, wish I had my shampoo as could have had a long needed bath!! It was stunning, getting down Aussie Steve told us it would be easy, easy I don't think he knows what that means, some of it was, and then there was a sheer drop at the end to get to the water. Boy was I glad when we saw Chris at the bottom waiting for us in the dinghy to take us back for a rest. Would we have done it if we had we known what we were in for? probably not. If you looked up at the mountain we were expected to climb, but we were so pleased we did it and will live of that story for a long time.



Four hours of near vertical climbing put Beans & Willie on top of the world. Those little dots in the bay below are UHURU & Xplore

We had drinks with them on their boat last night and took around the usual canapés, mustn't let the side down. We are now off again and again, today is a beautiful day, not expected at all. I hope the rest of our trip is like this. We so deserve it after all the rain that we have had. I am down to only one set of thermals and one 'all in one', so things looking aren't looking too bad.

Sorry I have rambled on this is more like a letter than a blog but there you go, enjoy your day

Love
Beans and her crew on UHURU

16th March 2011


---