At work, rest and play

UHURU
Steve Powell
Wed 19 Jan 2011 19:41
61:17.58S
65:33.70W

On a long, cold, and rather morose watch last night, I tried to think good thoughts. Yes, I thought, after all that work, preparation and effort we have been to Antarctica, it's over. It's done. It's finished. It's in the past. But it was fun, in fact it was more than fun. We did stuff!

Then I started thinking about all the 'little' things that somehow got missed in the excitement of the 'big' things.

The simple act of maintaining the boat and ourselves on a day to day basis, required a lot more work and effort than normal.



Laundry day on UHURU, Mike editing pictures and Chris in the bilges, checking the engine filters. Rich and Chris stripping the windlass in Deception Island and Mike carrying out the daily task of crushing the tin cans. Everything we took in with us had to come out with us, so waste management was very important.

We had a lot of laughs, at each other, at ourselves and sometimes at the world, but mostly at Penguins.




But the the worst and best of the bird world was the Sheath Bills, a little mischievous white bird, that crapped all over the boat on our last night, but somehow in the process managed to turn on our 'Wind Vane' Auto Pilot, which requires two buttons to be held down simultaneously. So we spent most of the night 'sailing' to the wind, at anchor. The little buggers also managed to peck through the waterproof cover on the outhaul button. The only damage we sustained while down there.

Our resident dare devil/comedian, Chris kept us in fits with his antics.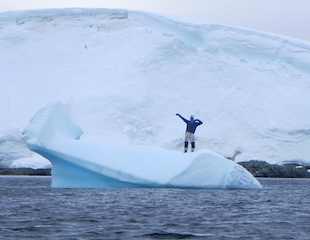 Chris surfing a small berg, and Chris and Buzz tobogganing (bin liner style) down the face of a glazier, which of course nearly ended in tears.

But Chris really pushed it all out there when he decided that he would leap off the spreaders into the freezing Antarctic ocean!!



The cold hit him like a sledge hammer, you've never seen anyone swim so fast back to the boat. Apparently there was no pain, just instant total numbness. The fact that 300m after recovering him we came across a Leopold Seal basking on a small berg didn't phase him at all. I suspect his Mum might have had something to say about it!

Talking about the cold, I guess it's confession time. Lots of you have been asking the question "How cold is it?". Well unfortunately, we have no idea, because despite the hoards of extra equipment we have bought onboard for this trip, the skipper forgot to pack a thermometer!!!



We know it's cold, but we just don't know how cold!!! Best guess is that on average it's about 1 degree but the wind chill can drop that to minus 20 to 30 in a heart beat. Just a gentle sailing breeze dropped the temperate dramatically. In the picture above I am wearing seven layers!! Marino Ice Breaker long johns and top, Fleece under shirt, full length Musto Windstopper thermal long johns, full length Musto Gore-Tex fleece romper suit, Musto Windstopper thermal blouse, big Gant Fleece, and a full Musto HPX Ocean Suit, (the best you can get), plus lining gloves, wrist warmers, a pair of ski gloves and mittens over the top, a neck warmer, balaclava and two woolly hats, three pairs of thermal socks and Dunlop Thermal Wellies. Oh, and a life jacket. The Michelin Man's got nothing on me!

But the real cold came when we went diving!! We managed a couple of dives while we were down there, that was enough believe me. Once on the wreck in Enterprise Bay and then on some old whale bones in Thunder Bay, Port Lockroy. I enjoyed both but the cold just ate into you.



We all prepare to go diving on the wreck in Enterprise bay. It's bloody cold Mum, do you think my bum might look big in this?



We head out to an old whaling area in Thunder Bay that is reputed to be covered in whale bones. Three very cold guys prepare to go down.




And whale bones we found, loads of them, but the visibility wasn't that great. This is at about 18 meters.

All in all the Guys had a great time, they did things they never thought possible, and discovered a part of the world that you only see on the BBC.........



Buzz found a boat park in the middle of an iceberg, and learnt how to fend off ice flows.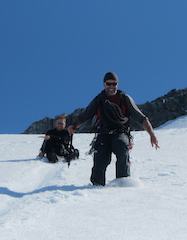 Mike climbed up everything he could see to bring us great pictures. And then he ran or skied down the rest!



Rich guided us safely to some of the most beautiful anchorages in the world. And taught us a lot while doing it.

And Chris, well, Chris was Chris, and you've seen enough of his antics in this blog.

As for me, I had one of the most relaxed and enjoyable legs ever, I knew we were prepared and all our problems were small ones.

So I spent a lot of time just feel smug......




We are now nearly half way across Drakes Passage and sailing in convoy with another yacht called "Spirit of Sydney", we had a chat earlier and their plan is pretty much the same as ours. And he's a professional Antarctic skipper, so I guess I got this call right.

About half an hour ago we had another close encounter with a rather large whale, this one was fast asleep on the surface when we nearly ran him down. Fortunately, he woke up just as we saw him, and between us we avoided an insurance claim. I am not sure who would claim off who mind you.

I don't feel so morose now, much better.

Luv to all.

Steve & the crew.

19th January 2011

P.S And finally an Antarctic NABS, you thought you were going to get away without one didn't you..............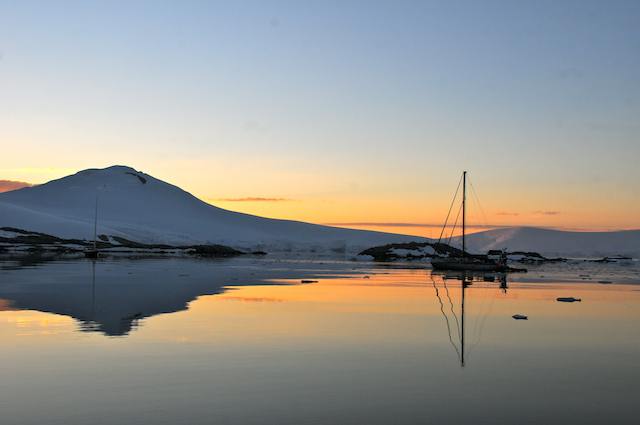 ---