Antarctica!!

UHURU
Steve Powell
Sun 9 Jan 2011 11:58
63:05.47S
61:00.94W

We have arrived... (Long pause, in fact a very long pause. Emotional block really. I am not sure where to begin. I think I'll make a cup of coffee).


Back again...... Shortly after sunrise, with Mike and I on watch, we sighted Smith Island our first sight of Antarctica. At 0620 local we sighted our first Iceberg, a big bugger just off Snow Island. We have crossed the Southern Ocean. (Another long pause. Sorry but these are emotional times, maybe another cup of coffee will help, actually a large scotch would really do it. But not yet).

After my last blog, in which we were effectively becalmed in the middle of the Southern Ocean, the weather came in as expected and we got our proverbial 'asses' kicked for 18 hours. 35-40kts of wind from the SW (on the nose) straight off the Antarctic mainland, bitterly cold, with 4-5 meter seas. Everyone was very stoic and remembered our nations seafaring traditions. Well... They didn't whinge too much! And we got through it very well, since then it's been a great run down, despite the snow!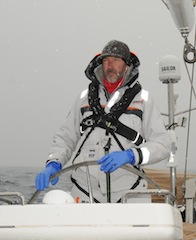 Mike looking 'stoic' while helming us through the snow. And yours truly striking a heroic pose while guiding us towards Deception Island.

We are now sailing gently through the Boyd Straights , escorted by squadrons of Cape Petrels (which are the prettiest little birds), towards Deception Island. Our plan is to drop anchor in the middle of a flooded volcano which last erupted in the Seventies. Never a dull moment really. We hope to stay there for a couple of days and do some diving around an old whaling station, before heading further South down the Antarctic Peninsula.

It has been a long journey from Lymington to Antarctica, one that has tested us on a few occasions, but one that has been enormous fun, made possible by all the friends and family that have joined me onboard. And the fantastic support of all of you that can't be here, but still support us with your wonderful messages.

A special mention must go to my Antarctica crew; Brother Mike, whose has abandoned Judy and the kids in a new home somewhere in North America to be with me; 1st Mate Chris Durham, who has only just joined me but is fitting in very well, if only we could wean him off the Weetabix; Richard 'Da Iceman' Haworth who has been involved one way or another with the build of UHURU since 2006; and last but not least Al 'Buzz' Keck who stepped in at the last minute to replace David & Tamsin, leaving Kirsty and his 5 month old son, Jasper, to fend for themselves. A noble lot really, or maybe I meant ignoble. Thanks guys a heroic effort from all.

Absent friends and loved ones.......... Botty where are you!!!!!!!!!!!! We miss you........... Chris managed to change the engine oil the other day without you!! Watch out, the Chief Engineers spot is in jeopardy.

And finally the Lovely Beans and our beautiful daughters, Lucie & Sophie, we all know that I wouldn't be half the man without them and their love.

Well, feeling a 'little bit snuffly' now so I better sign off :-)

All the very best from the whole crew in Antarctica.

Steve

9th January 2011

P.S. I just thought you might like to see this beautiful picture of a Wondering Albatross, he was enormous but unfortunately it's difficult to gauge the scale when you only have the sea as a reference.


---