Sopers Hole and Jost Van Dyke - 18:23N 64:42W

Island Wanderer
Peter and Avril Brookes
Thu 3 May 2012 14:35
On Monday 30th we made our way to Sopers Hole – a delightful place on the west end of Tortola. The west side is well protected by scenic islands, and the bay extends between Frenchman's Cay and West End. Although so surrounded by land, there was a steady breeze on the water channelled by the hills – great for keeping the batteries charged with the wind generator.
Ashore there are some lovely boutique shops, and bars. We found that our appetites are now smaller than they were, or else the portions we were served for lunch were supersized.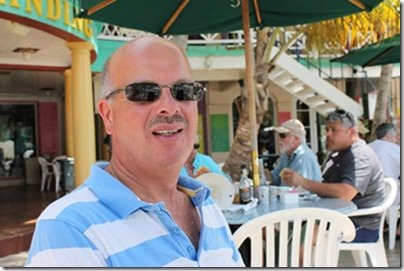 On Wednesday we decided it was time to move on and explore Jost Van Dyke. We had thought of stopping at Sandy Cay for lunch, but found the moorings there very busy, with wind gusts and a serious chop causing boats boats to swing every-which-way.
We continued on to Diamond Cay on the East end of Jost Van Dyke, tucked in by Little Jost Van Dyke. The setting looked perfect :-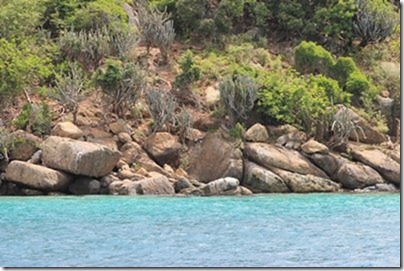 Then we heard the roll of thunder. Torrential rain then swept in, thoroughly washing the decks and driving us below. The rain continued on and off until evening. Amazingly, since joining the boat last July, this is the first time in over 10 months that we have had to retreat from the rain and have been unable to live outside for an entire afternoon. It will be a shock to come back to the UK!
As the afternoon wore on, the humidity in the cabin rose from mildly moist to decidedly dripping, not helped by the fact that we had to share the space with an ill timed load of wet washing. This was reminiscent of many a holiday in Brittany!
---