West coast Mallorca 39.31N 002.26E

Island Wanderer
Peter and Avril Brookes
Mon 8 Aug 2011 14:00
Mallorca seems to be the perfect sailing destination if you like pottering from bay to bay in beautiful weather, albeit a little light on wind.
The west coast has a small cala or bay every mile or so along the coast, offering anchorage in attractive scenery and providing shelter if you choose one facing the right direction. The wind has been so light it hasn't disturbed the anchorages as much as the swell which can come and go from seemingly random directions at will.
We visited Palma by bus on Saturday and enjoyed the bustling city, with it's cathedral towering above the horizon as you approach. The narrow windy streets were great fun to explore with their colourful shop displays and buskers on every corner.
Sunday we moved the grand distance of 4 miles round the coast to quite a remote anchorage were we enjoyed respite from the hundreds of motor boats (and their wakes) passing the boat in Andratx. The holiday resort of Camp de Mar looked out over the bay but was less attractive than some we've seen. It's unique selling point was a very small island boasting a cafe which could be reached by a narrow wooden bridge.
This morning we had an even shorter journey to a delightful bay called Cala Fornels. This is a small bay with a great deal of charm. We have yet to go ashore.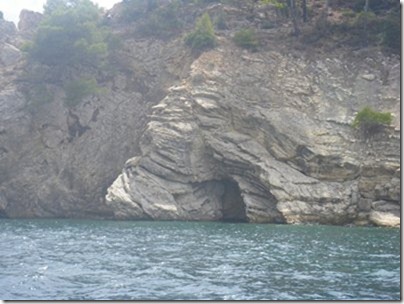 We are enjoying shopping for local produce in the supermarkets and look forward to a traditional potato cake for tea. We're not entirely sure what to do with it at this stage!
---