La Coruna! 043.22N 008.23W

Island Wanderer
Peter and Avril Brookes
Wed 14 Jul 2010 17:04
We arrived at 8pm last night to a very friendly marina in La Coruna. On the
way in we passed the first light house built, which was erected in Roman
times and still stands today, although it may possibly have had some
renovations over the years! The last day of the trip was very pleasant with
all recovered from sea sickness and the sea state much calmer than before.
It's hard to believe we really are in Spain! After a good night's sleep, the
day has been busy tidying up and attempting to repair the breakages
sustained during the journey. Very sadly Derek had to leave us to fly home
for work (what's that? Obviously got his priorities mixed up somewhere). We
were extremely grateful for his huge contribution to the crossing.
The huge pounding the boat took, coupled with large amounts of sea water on
deck (and below deck) played havoc with some of the electronics and we lost
the use of the wind instuments, the radar "see me", the vhf radio and the
bowthruster, which inexplicably came on mid voyage all on its own. Luckily
none were essential for the trip, although berthing without the bowthruster
gave Pete something to concentrate on. The bowthruster now works
intermitently, but the other instruments are yet to be repaired. It's a good
job La Coruna is a pleasant spot as we may be here for some days.
The promised winds came through last night and today has been extremely
blustery. We are very glad not to be at sea today!
Tomorrow we aim to carry on with repairs but also to explore the town and
get a flavour of Spain.
Adios!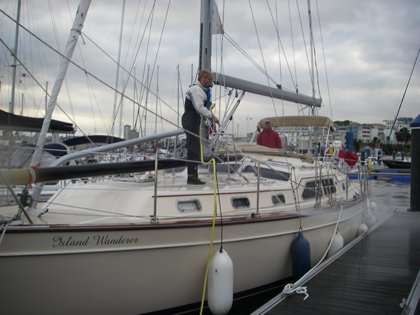 ---