Rio Guadiana 37.12N 07.24W

Island Wanderer
Peter and Avril Brookes
Mon 3 Oct 2011 18:52
Over night the wind died completely leaving a bright, still day. We awoke to the smell of freshly cooked bread as the breadmaker did it's job. Or rather we re-awoke, as we had forgotten to remove the smoke alarm from directly above the bread maker, and it went off at some ridiculous time in the early morning as the bread started to cook!
Despite the lack of wind, we were eager to move on, having decided to head for the Rio Guadiana. This river marks the border between Spain and Portugal, and is navigable some miles upstream. We motored all the way in very warm conditions, being visited by a Spanish customs boat, who gave us a quick look over from a distance before moving on the another yacht. We then acted as a carrier for a few small sea birds. We think they were terns. They spent about an hour and a half flying round the boat and hitching lifts, occasionally leaving briefly to have a spat with a large seagull.
Some sort of tern? The suspension bridge upstream
To pass the time we cleaned the teak toerail and read. As we neared the coast the number of lobster pots made it impossible to do anything but keep a sharp lookout.
Rather than go into one of the two marinas in the mouth of the river, we decided to anchor for the night with several other yachts. From where we are we can see a suspension bridge upstream which we need to clear before proceeding much further. There is supposed to be just enough room for us to get underneath, so we shall take it very slowly. Upstream is supposedly beautiful with much wildlife to enjoy. We have already seen a flock of storks flying overhead and look forward to enjoying a peaceful day or two exploring the river.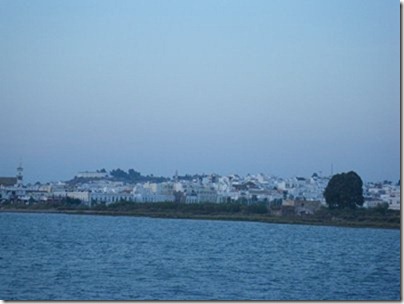 Looking west to Portugal..... and east to Spain.
---