Martinique

Island Wanderer
Peter and Avril Brookes
Sun 29 Jan 2012 00:17
Having made several long hot dusty trips on foot to the supermarket in Rodney Bay shopping centre and trundled the trolley back to the boat, we eventually realised the journey could be done by dinghy in less than two minutes, saving approximately 20-30 minutes on the journey by road! The benefit of this discovery, apart from saving shoe leather, was that we could bring ice cream back to the boat without it thawing.....yum!
On Thursday we sailed from St Lucia to Martinique in some of the roughest weather we have encountered since being in the Caribbean. After a few waves found their way down the companionway hatch, into the bunk room via the air vent and into the shower via a couple of routes, we realised how unused we were to such heavy seas right on the nose! We were soaked shortly after leaving Rodney bay but the warmth of the sun stopped us getting cold and we were grateful to arrive in Martinique later in the afternoon to be given a lovely berth in the Marina where Pete's sister Gill joined us later that evening.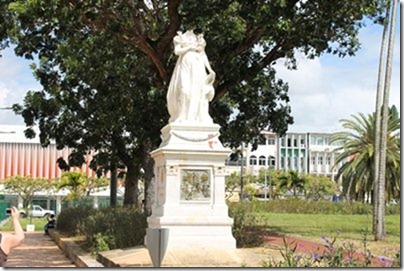 Pete's family on board Fort de France
We had last visited Le Marin, Martinique in 2010 when we chartered a boat for a week with Derek and Lesley. The marina is now unrecognisable having been completely rebuilt on shore with fantastic facilities. Unfortunately for us, they were so fully booked that we had to move onto an anchorage today.
However we were on the pontoon berth long enough to allow Pete's parents to visit for lunch from the nearby resort of St Anne where they are holidaying for a few weeks.
Fort de France
Today we went to Fort de France by car to see the sights and visit some of the local markets. Being Saturday, much of the town closed after lunch and we probably didn't see it at its best. We had a lovely time with Pete's parents though and look forward to going hiking with them tomorrow.
Gill is getting used to being bossed about by Pete and adapting to life at sea, having had an introductory soaking in the dinghy. We plan to sail round the coast later in the week to some quieter bays where we can hopefully enjoy the swimming and snorkelling. Le Marin is a calm anchorage but seems very exposed to the wind, and is very crowded at the moment.
Pete continues sorting out the teak work, now assisted with various sanding devices brought out from home and Avril is delighted and amazed to have new glasses to replace the ones lost overboard. This required the intervention of a friend from home who managed to persuade a reluctant Specsavers to make some new ones. Thanks to all those who have supported from home; you're amazing!!
---