Peter Island then Road Town Tortola 18:21.2N 64:36W

Island Wanderer
Peter and Avril Brookes
Sun 29 Apr 2012 19:47
We left Cooper Island and gently sailed west to Peter Island, taking our time on a lovely, but not very windy, day. We were headed to Little Harbour, and on arrival we found there were a few other boats in the small bay. However we made our way deep in, dropped anchor, and reversed towards the shore, and tied the stern off to some rocks to prevent us swinging into any adjacent boats, i.e. the Oyster 82 we were alongside.
After a pleasant lunch we realised what idyllic surroundings we were in. The water was still and clear – much like being anchored in a swimming pool, though we were surrounded by huge shoals of fish, and the occasional large barracuda, and flat fish that slowly settled themselves under the bottom sand.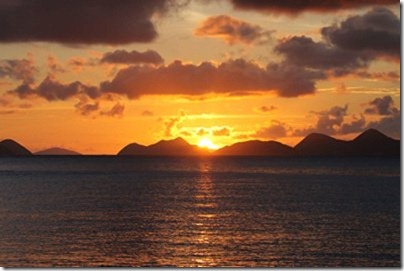 As the afternoon cooled we removed the blocks and lines from the toe-rails and sanded the varnish in readiness for another coat of varnish. After a peaceful night's sleep we awoke early and varnished before the sun became too hot. Once completed at 9.00am we settled down to have our breakfast, and watch the world go by.
Friday morning we noted that there was more cloud over Tortola. However everything was calm and peaceful, with a totally smooth sea. As our provisions were getting low we decided we needed to cross to Tortola to visit the supermarkets to stock up on some essentials (e.g. chocolate, ice-cream etc).
We left Little Harbour, and as we came to Sir Francis Drake Channel we realised what a sheltered harbour we had been in. The wind was blowing 24 knots, and the seas were built up and lumpy. We found it a complete surprise after the idyllic conditions we had left.
As we approached Road Town we saw how the swell was sweeping into the anchorage, so it was an easy decision to book a berth in Village Cay marina for a few nights. It makes provisioning so much easier and there are some boat jobs to be done that are much easier when tied up alongside a pontoon berth. We had not had this opportunity since St Kitts.
On Friday night we quickly realised that although marinas have their advantages, there are some disadvantages also :- there were three different restaurants blaring out music as loud as they could in competition, and until it stopped in the early hours of Saturday it was difficult to get any sleep.
---