Marina Rubicon - Lanzarote - 28:51.5N, 13:49W

Island Wanderer
Peter and Avril Brookes
Sat 29 Oct 2011 20:35
After a swim and lunch aboard we set off for a trip to Graciosa, Doug swimming to shore whilst those preferring to stay dry took the dinghy option. Unfortunately things did not go to plan as Mandy tripped out of the dinghy into the surf as we approached the beach getting a complete soaking in front off a passing group of tourists! Not deterred we managed to dry out all clothes on the bushes and then set off for town, Graciosa was a delightful place , lovely beaches , super smoothies and a laid back feel.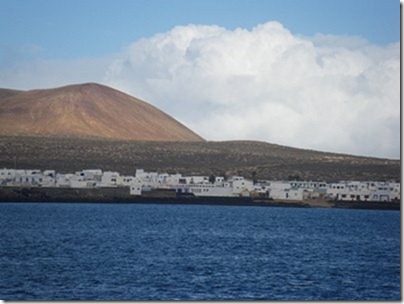 The return dinghy ride provided a second soaking as we headed into the swell outside the harbour. Early next morning, with sunshine and a good breeze we set off for Lanzarote and a fantastic day's sail touching 10 knots, even a squall and a downpour did not seem to be a problem. We had a close encounter with 2 racing yachts who seemed to be out for a photo shoot and nearly got more than they bargained for when we were at the centre of converging courses.
We sailed on down to Marina Rubicon on the southern tip of Lanzarote for a couple of days. Here Pete fixed the kicker with the aid of a helpful boatyard . We have done extensive research reading Claire James and Lin and Larry Pardey and we realise that we need a wood burning stove and to restock the grab bag to include our spare spectacles and dentures, so much work to be done!
---