36:43.374N 24:27.123E

Muskrat
Chris and Alison
Mon 12 Jun 2023 19:07
09/06/23
After a lovely few days in Kythira it was time to say good buy to Paul and Ann. They are continuing their circumnavigation of the Peloponnese and we are heading across the Cyclades towards Turkyie. Trying to get a good weather window to go north and East has not been easy, so with a hint of west wind for the next couple of days we headed off at 1515 from Kythira towards Milos for our first night passage in Muskrat. All was good for the first few hours with downwind sailing that would have been excellent for the Parasailor, but we decided not to put it up with night approaching. We slipped into 3 hour watches and between us squeezed as much out of the wind as possible to keep Muskrat moving during the night in the light winds. The night was very damp with the heavy dew and the first few hours it was pitch black with hardly any stars and no moon until 0200. We managed to keep Muskrat moving until 0630 when we gave up and decided to use the iron topsail to get the rest of the way to Milos. We arrived at 1240 and dropped the anchor in Adamanta Bay.

Milos is a volcanic Island that blew its top off many thousands of years ago leaving a crater similar to Thira. As you sail into the crater left by the explosion it is very hard to imagine the power of such an explosion and the result it would have had on the Cyclades. Now it provides lovely sheltered anchorages for us sailors. It is still active in parts of the crater with evidence of hot sulphurous springs.

Milos has been inhabited since prehistoric times, its fertile soil and the minerals in the stone have meant it became an important trading post with East and West Mediterranean, Asia Minor and Egypt, and has enjoyed good prosperity.





Milos



A replica of the statue of Aphrodite, the original is now in a museum in France.



church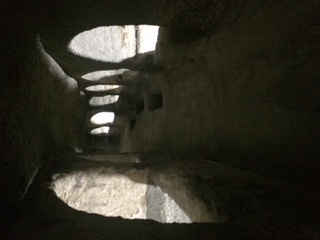 The catacombs of Milos







Roman amphitheater at Milos




Sent from my iPad
---