Blog

Muskrat
Chris and Alison
Tue 3 Aug 2021 08:33
38:22.9N 23:47.7E




We have done it, Muskie is on her way at last. We launched at 0657 local time into the Evia channel and we were off.



Well almost, we had to anchor to put all the sails on but after lunch, when the wind did finally fill in, we had a lovely sail going up and down the the channel for a while to get the feel of her and set the sails. Then we set a course for Eretria and sailed all the way. Not a long passage to start with, but we do have the next two months to get to Leros.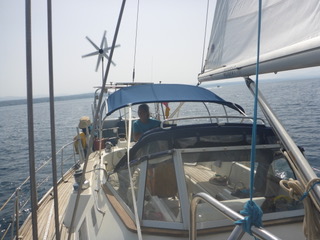 Erieria is protected from the Meltemi, but open to the S and W, perfect, the predicted winds were NW, N NE according to Predict wind and Poseidon, the weather systems we are using at the moment, perfect for our first night at anchor. 0200 the anchor alarm goes off, the wind had gone round to the W, we hadn't dragged but the anchor alarm didn't like the fact we had swung round, back to bed. 0230 we had swung round again a bit further to the S this time, back to bed. 0315 the depth sound alarm goes off, we had swung round to the S and now the depth was below the alarm setting! We changed the settings once we were certain we had not dragged the anchor and then back to bed for the last time. Well, that's sailing.
The predicted winds for the next few days are supposed to be NW, N NE, getting up in the afternoon and then calming down in the evening. We woke to southerly winds coming into the bay with all the forecasts still saying we should be getting Northerlies. As our anchor is holding, we decide to stay here for today (Tuesday), do some jobs and look around Eretria, I should have purchased a guide book!
---