37:08.137N 24:27.748E

Muskrat
Chris and Alison
Mon 15 Aug 2022 18:52
13/08/22
After spending a few days in Paros due to the Meltemi screaming down the Aegean, we left and headed to Serifos. The last time we were here we had to sit out strong winds for over a week so we were hoping that we were not going to repeat the experience. We were now old hands at the katabatic wind tricks, so we were ready for the "strong gusts into the bay". This time however, we were able to sail most of the way in a lovely F5 and on arrival in Serifos all was calm and quiet and we were able to pick our anchorage around the few yachts that were there. This marked the end of our journey across the Aegean against the Meltemi winds. From now on we just have to beat North to get to Olympic Marina for the 1st of September. We had planned to go to the Saronics and Eastern Peloponnisos on our way up the coast, but we have decided to visit them in October when we come back after a short break at home for a month.
Chris has started to hopefully fix the problem with the leaking dorades, so now we have the headlinings down in the forward heads and tins of Polyester resin ready to poor into the box when we have a calm day to give it half a chance of staying where he wants it to go and setting before it runs out again. No prizes for guessing that the pipes through the deck had been stuck in with the infamous sticky black goo!
Swimming in the clear waters of the Greek Aegean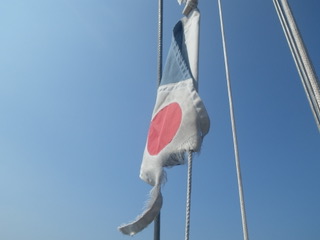 Our poor Cruising association flag after a season in the sun and wind
A photo I forgot include in the Samos blog showing Samos Pythagorean Harbour.
---