36:45.327N 022:34.317E

Muskrat
Chris and Alison
Mon 29 May 2023 18:13

26/05/23
We left Monemvasia at 0855 with a brisk F3 N/NE, so with the spinnaker lines rigged we sailed under full main and Genoa with the intention of getting the Parasailor up once we were underway. However the wind dropped and the swell made the sails flop all over the place so we thought we would wait until we rounded the peninsula. As we got there the wind steadily increased to a F4 and as we were sailing fast on a broad reach we decided not to chance our luck putting the Parasailor up in a brisk wind for only the second time. Just as well. Rounding the end of the peninsular to start our passage round cape Maleas we were sailing still under full main and Genoa in flat sea and doing 7.7kts when suddenly the gusts started. We found ourselves in gusts of 35kts, not too much of a problem, but what was scary was the wind going round the compass and coming in from all directions. Thankfully we managed to get the sails reefed quickly and gybed out of the bay to give ourselves some sea room. Muskie coped well under 2 reefs in the gusts. Cape Maleas certainly lived up to its fearsome reputation.

We anchored in Sarakiniko Bay on the south of the island of Elafonisos.

The next day was quite windy all day and we were unable to take Kit, our dinghy, ashore, so decided that we would sail to Gythio the next day and return to Elafonisos in couple of days time.

28/05/23
We left Elafonisos at 0850 and managed to sail for about an hour until the wind got to 4-5kts in the wrong direction so we put the engine on and motorsailed for the rest of passage. We arrived in Gythio at 1400 and anchored in the small bay off the town.

Gythio is the modern capital of the Mani. It is a pleasant port town with a 19th century Neoclassical harbour front and a low key air about it. It is also where one of the greatest seductions of all time was consummated. In mythology, Gythio was founded jointly by Heracles and Apollo. The island just off shore is mentioned by Homer as the site of Paris and Helen's first night together after they had run away from her husband, King Menelaus of Sparta. Then, as now, Gythio was the main port for inland Sparta, and after their night passion the lovers fled by ship to Troy, providing ample fodder for epic poetry.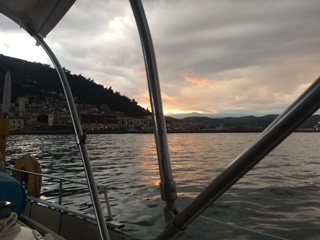 Gythio at dusk.


Sent from my iPad
---