36:10.0N 29:48.3E

Muskrat
Chris and Alison
Sat 28 May 2022 14:26
24/05/22
Polemos Buku (36'10.0N 29'48.3E)
Left Kas marina at 1030. Had to motor all the way to Kekova Roads, the light wind was directly behind us. Saw a large leatherback turtle on the way, no dolphins though.
Entered Kekova Roads at 1415 and anchored in Polemus Buku a quiet anchorage at the head of the bay. There were a few yachts in when we arrived and one Guilet but there was still room for us. Anchored in 5.6m in sand and mud. There are two restaurants ashore, no other facilities - lovely. The Guilet left in the early evening. Clear clean water to swim in so we dived on the anchor, it was buried in the sand:)
25/05/22
We decided to visit Apollonia an unexcavated and remote city probably 3rd or 4th century BC, high up in the mountains above our anchorage. It is reached by a well marked track and the book said it should take 2 hours 30 mins to get there walking up 1500m. It took us 3 hours to walk it and it made us realise the weather is getting hot and these walks might have to taken in the early mornings from now on!
Apollonia is remarkable for its necropolis, dozens of pillar tombs and a small theatre. The views from the top are glorious. It was home to rich merchants who made the famous Tyrian purple colour dyes from Murex Trunculus snail that only the rich could afford.
It took us another 2 hours 30 mins to walk down in the blazing sun with little or no shade and by the time we reached Muskie again we knew we had been in the sun for over 5 hours.
We had a swim to cool off, rehydrated with pints of water and then a rest in the shade of the cockpit.
In the evening we visited the local restaurant and had meatballs, salad, bread, chips and wine for 510TL (about £20).
Apollonia At the start of the walk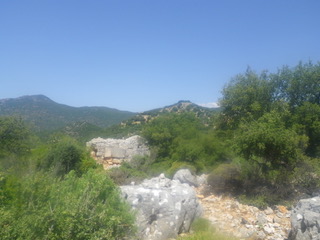 The track leading to Apollonia
At the top!
The restaurant with our meat balls and chips
---