36:33.12N 27:50.53E

Muskrat
Chris and Alison
Mon 25 Apr 2022 20:20
We left Palon Harbour in Nisiros very gently past the harbour wall again as it was very high pressure so the water level had dropped and yachts that had tried to get in the previous night had gone aground, one had given up and gone off somewhere else. We got over the silt ok and were soon making our way under engine towards Simi. There was very little wind so we were motor sailing most of the way. We had to dodge some large container ships and a very fast moving Turkish warship but other than that the voyage was very calm, warm and sunny. As it was Easter Friday I made some Hot Cross Buns for tea during the crossing.




About an 1.5 hours to go and the wind picked up so we had a lovely sail towards Panormitis Bay on the west coast of Symi. We arrived to find only two other yachts in the bay so we had a good choice of anchorages. The wind was due to go round to the S/SE the next day but we chose a spot close into the shore aware that we would have to move tomorrow into deeper water when the wind went round. The sea temperature was 20.1'c so swimming was going to be on the cards for tomorrow.




The next day we wanted to visit the monastery and the two small Museums. We were a bit late starting out and when we got half way to the jetty a large ferry was approaching the same jetty. We duly waited for it to reverse in before continuing to an other part of the jetty. Unfortunately as soon as the ferry had backed onto the jetty, hundreds of people started streaming off into the tiny village. What had been a very quiet small village was suddenly transformed into a very busy tourist attraction. We did realise that it was Easter and a lot of Greeks make a pilgrimage to the monastery, but this was silly. So we got back into the dinghy and made our back to Muskrat to change our plans. We were just having a coffee when we realised that the visitors had started getting back onto the ferry. Sure enough, an hour after they all piled off the ferry, they all got back on and had disappeared out of the bay. So we made our way back to what was now a very quiet village again with a monastery, a shop, a bakery and two taverna's that was now a pleasure to walk around.




The Monastery is still a functioning monastery. It is 18th century and dedicated to the Archangel Michael Panormitis. it is in a Venetian style with the highest Baroque steeple in the world. it has some artefacts such as antique chandeliers and an impressive silver icon of the Archangel who is the Patron Saint of the island as well as the protector of sailors.

There is a monastery bakery were you can buy lovely bread. The two museums were closed during our visit.




During the afternoon we had our first swim. Chris though, had trouble getting back onto Muskie because of his painful wrist, we hadn't thought that one through properly, but he made it and we were soon drying off on deck in the late afternoon sun




That night we were woken at midnight with a very loud explosion and fireworks - it's Easter then! The monks singing chants and psalms kept going until well past 0200. The rest of the day was quiet of festivities, just families having a holiday on the beach, cooking BBQ's and quietly celebrating Easter.




We walked to Marathouda bay to have a look around. A lovely quiet bay, open to the East, looked deep and in some places rocky. Cafe and taverna were not open yet, it appears that most places do not open until the 1st May.




On the way back we called into the local shop and got some milk and some local honey. The rest of the day was spent doing some jobs. Chris is fighting with the autopilot that had decided it is not working anymore along with all the other things that are going wrong with the boat at the moment (watermaker, AIS, poo tank guage, fuel and water gauges not working). We were surprised yesterday to find that Marine Traffic has finally picked us up and moved us on to our current position, but it is not working correctly yet. This has raised more questions about our system and whether it is working or not.




Water temp 21'c




Moving onto Rhodes tomorrow.



The highest Baroque tower in the world
The monastery at Panormitis Bay Simi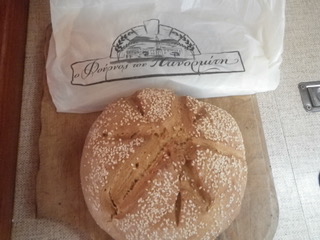 The monastery bread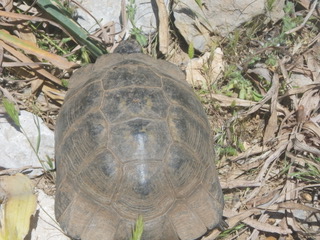 A tortoise we saw on our way to Marathouda Bay
Drakondia (Dragon Lilly)
---