Trip to Carriacou and another Barracuda!

Imagine Of Falmouth Online Log
Jon Constantine
Wed 15 Jul 2009 15:45
Weds 15th July 09 to Fri 17th Jul 09

Woke up to a very muggy, overcast day. We've not very far to go and the wind will be just aft of the beam so we're just going to put the headsail up for the trip to Hillsborough, Carriacou. We had a few spots of rain on the way but no squalls. Before we knew it we were in the lee of Carriacou and the wind disappeared on us so on went the engine. Not long after that the fishing reel started making that lovely whizzing sound. Whoopee! We are down to our last two fillets of Tunny so we need to stock up now. Damn! Another barracuda. A bit big to risk eating so back he went into the water. Not before drawing blood though - Jon's not mine! Jon had donned the big gardening gloves and went to grab the barra to bring it aboard, in an attempt to remove the hook. It wasn't as tired as it looked. It literally jumped off the hook and disappeared overboard and somehow the hook managed to find its way into Jon's finger. Ouch! Bet you thought it had bitten him. Luckily not. By the look of those teeth, Jon would have lost a finger or two! Well, that was the end of the fishing. We're in very shallow waters now and we're almost at our destination.

Once securely anchored (2nd attempt) we finished off the last of the Tunny, washed down with a cold beer, before going ashore to do the clearance paperwork. We'd forgotten how many forms you had to fill in here. It took ages as we ended up having to go to 3 different offices too. We bought a few provisions while ashore and then back to the boat for the next hop to Tyrrel Bay. Hillsborough is just too open and rolly for our taste.

Wow, it's busy here. We've been so used to empty anchorages recently that it was a bit of a shock. Of course a lot of cruisers are here now that it's the summer as in theory, as we are just above 12 degrees North, we are relatively safe from hurricanes (although the devastation that Ivan caused in 2004 is always in the back of your mind). It's also a short run to get further south to somewhere like Trinidad if there is a warning as you generally have 48 hours to get out of the way.

The water is very green at the moment and not great for snorkelling but the visibility was good enough to check that the anchor was nicely set in sand. The water is clean though which is a relief as it's so hot now that a couple of cooling dips a day is essential.

Having been boat bound for a couple of days (we've been a bit lazy and have spent most of our time on the boat chilling out, reading and surfing the net) we decided to go ashore to the Lazy Turtle for pizza on our last night here. We dinghied over to the boat bar for sundowners first. It's called the Hallelujah Bar and is run by Lady D (aka Denise). A big improvement on Angels Rest that used to be here. It really wasn't very stable or seaworthy especially with a few people on board! It broke it's mooring a while back and apparently is on it's way to Venezuela now, if it's still afloat that is! Denise was a great hostess, giving us complimentary rum punch on arrival, and we had a good chat with her. She's originally from here but spent 35 years in London before heading back. We had a fun evening chatting to her and some cruisers (all of whose boats we'd seen at some point in different anchorages down the island chain) and then 'wobbled' off to the the Lazy Turtle for our dinner. Fabulous pizzas but not too keen on their dinghy dock. It moves... a lot! And no, it wasn't only down to the rum punches and beers that we'd consumed before hand!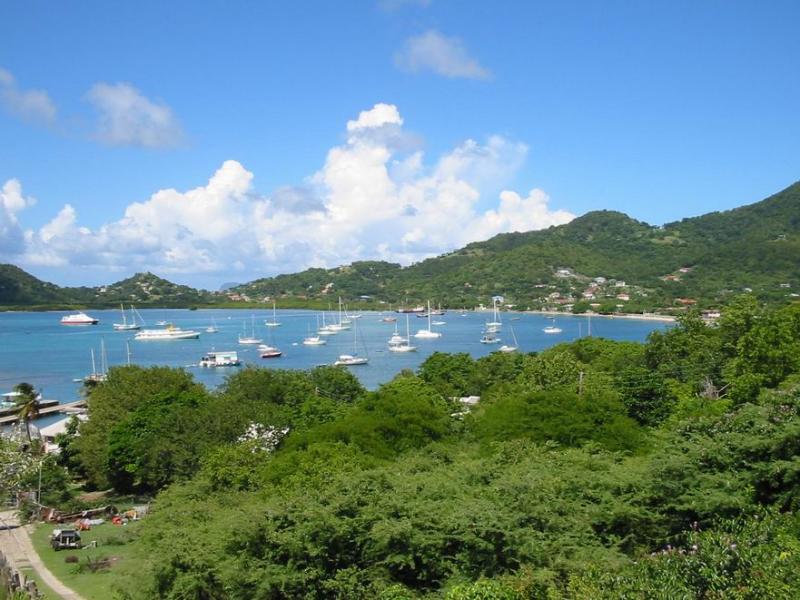 Didn't take any pics this time but here's an old one of Tyrrel Bay with less boats in it





---