The Botanical Gardens of Nevis

Imagine Of Falmouth Online Log
Jon Constantine
Thu 14 May 2009 10:00
Thurs 14th May 09 to Mon 18th May 09

We're back on a mooring ball at Pinney's beach. It took us just over an hour to get here from St Kitts and the weather is lovely now. Well, it was until we dinghied ashore to clear in. Half way there we could see the rains coming up fast behind us. Full power on but it caught up with us just as we were approaching the dock. We were soaked. Going through clearance was a breeze as usual and they didn't seem to mind us dripping water all over their office. The guy in the office remembered us from last time and was as friendly and chatty as before.

We've spent quite a lot of time here in Nevis now but we haven't seen much of the interior yet, apart from the main town. We're going to be here for a few days so we're going exploring. Having looked through the pilot book, we are going to The Botanical Gardens of Nevis, created by an American, a Dr Joseph Murphy. Sounds interesting. It's a bit of a walk in this heat so we caught a local bus which dropped us off at the mile long road to the gardens. No problem. We can walk a mile, no sweat. Actually, a very hilly mile with a lot of sweat! It's sooooo hot!! Did you bring the water? Oh I thought you were bringing it. Arrgh. Luckily for us they sold bottled water at the entrance to the gardens!

The gardens are beautiful taking up 8 acres with artificial rivers and pools, statues, and a shaded rain forest conservatory. The plants are from all over the world including exotic orchids, cactuses and hundreds of different types of palms. We had a great lunch on the balcony of the tea house too, a very realistic replica of one of the old plantation estate houses.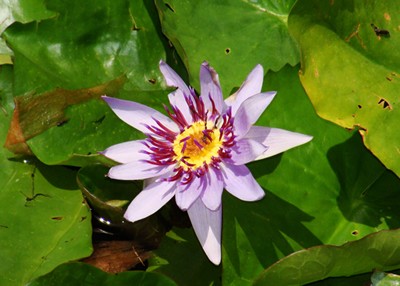 On the mile long walk back we were admiring a beautiful house up on the hill when we spotted a monkey. The house looked empty and I think he was casing the joint!


---