Virgin Gorda

Imagine Of Falmouth Online Log
Jon Constantine
Fri 10 Apr 2009 13:50
Mon 6th Apr 09 to Thurs 16th Apr 09

Our month in the BVI is nearly up now. Last year we spent 4 months exploring Tortola and the surrounding islands and feel that we'd like to see a bit more of Virgin Gorda, specifically Gorda Sound, before we start heading back down the island chain. Over the next couple of days we said our goodbyes for another season to our pals, giving Cindy & Tracey a big bottle of Mount Gay Rum as a thank you for them letting us use their mooring ball.

We provisioned the boat and then headed off, firstly to Benures Bay for a night, to break up the journey a little, and then onwards the next day to Virgin Gorda. It was a good sail and we covered the 29 miles in just 5 hours entering the Sound a little before 3pm. Gorda Sound is is in the North of Virgin Gorda and rather like a large lagoon, protected from the seas by Mosquito, Prickly Pair and Eustatia Islands with Mr Branson's Necker island further out to the NE. We motored through the gap between Mosquito with it's adjoining reef and Prickly Pear, carefully following the marker buoys, and chose the very protected Drakes Anchorage (next to Mosquito and behind the reef) as our first stop. It took 3 attempts to finally get the hook in. I'm so glad the anchor windlass is working now! We spotted one lonely pink flamingo on Mosquito Island. Bizarre.

The next day we motored the short distance down to the very picturesque Leverick Bay spending a few hours ashore. It's mainly a holiday resort and not a huge amount to do so after a couple of beers we went back to the boat.



Leverick Bay An empty marina and yes, a British telephone box to the far right!

Next stop The Bitter End, home of the Bitter End Yacht Club at the East end of the Sound. We motored around for a while trying to find the best spot and finally decided on the the area close into shore near Biras Creek. It's beautiful here with lovely calm, clear, blue water. We did have to put the stern anchor out though as the wind was a little fluky and we swung dangerously close to a Catamaran anchored nearby that first afternoon. An added bonus was that we managed to pick up free wifi from the boat, so here we stayed for another 4 nights. We went ashore once for an explore and had a couple of beers in the Yacht club, as you do. Ouch! At $15 for 2 beers we left feeling very bitter! We won't stay for lunch....

We now have 2 days left before our visitors visa expires so it's back to Spanish Town today to clear out and then on to Sint Maarten the following day. Uh oh, we have a problem! We can't get the stern anchor up. We were anchored in quite deep water, about 8m, so I decided to use my scuba gear to suss it out. I need to test out the tank anyway and now is as good a time as any. Jon got hold of the tank for a 6 pack of Carib beer in Trinidad at the end of last year and it had been fully serviced and filled while we were in Antigua, but not yet been used in anger! So down I went and found the problem. We'd managed to hook ourselves onto a submerged cable. It was quickly released though and then we were on our way for the short sail back to Spanish Town.



Success - anchor up and scuba gear is working fine

It again took us 3 attempts to anchor. We really need to work on our technique although we do know that the holding here is pretty bad. We cleared out with ease and did a quick provision (we found some fabulous cheap fresh prawns) and Jon made some bread. Yummy. That's dinner sorted.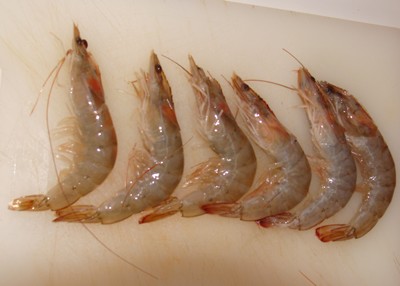 Half a dozen fresh, fat, juicy prawns The finished article - Fried chilli & Garlic prawns with fresh bread - Perfect








---