Tortola to St-Martin 13-16 April 2008

Imagine Of Falmouth Online Log
Jon Constantine
Sat 19 Apr 2008 21:35
Well, we have finally left Tortola (BVI) last Sunday (13th April) as our visas had expired and it was time to start making our way south down island towards Grenada.
Our plan way to sail north up Drake's Channel to Virgin Gorda (BVI) to get some northing and thus a better angle for sailing to St-Martin (France) 74 miles away. We left Soper's Hole at 10.45 am and spent the day beating up the channel in 20 knots + of wind. We arrived in St Tomas Bay, Virgin Gorda just before 5pm and dropped anchor. A quick swim followed by G & T's to watch the sunset, dinner aboard and an early night. Our friends Jim and Diane from Tortola had decided to join us for the sail to St-Martin and were due to arrive on the ferry at 4.30pm. We decided to take the dinghy ashore to locate the immigration office and then to take a taxi down to The Baths to visit the famous national Park where huge boulders surround the coves creating a fascinating walk along the beach in and out of the enormous granite rocks. Unfortunately, the weather decided not to favour us and it started raining as we arrived and poured down all the time we were there which put a bit of a dampener on the trip - literally. We arrived back at the boat in time to watch the ferry arrive and I dinghied in to the beach to collect Jim and Diane just as the clouds decided we needed a final shower.

The Baths at Virgin Gorda
Our plan was to sail around the top of Virgin Gorda and northwards towards Anegada to get even more northing before turning south east for the beat towards St-Martin. Again, the weather had other plans and instead of the more usual north east, decided to swing round to south east, making a direct course impossible. It looked like it was going to be a zig zag beat all the way so I decided on an earlier departure to enable us to arrive in St-Martin in daylight on Tuesday. We upped anchor and left at 11.25 am. We made good progress up the western coast of Virgin Gorda and could see the trees on Anegada before tacking over onto the best course we could make for St-Martin. This turned out to be about 50 deg off the desired course but was the only option as any further northing would have taken us too close to the reefs of Anegada where over 300 wrecks lie testament to imprudent navigation.
By nightfall it was obvious that it was going to be a much longer sail than we had anticipated, each tack being almost equally 50-60 degrees off our desired heading and with an unfavourable current to boot. By midnight, a daylight arrival in Marigot Bay St-Martin was looking impossible and I decided to add engine power to try and counteract the wind, the current and now the growing waves. I don't think any of us got more than than an hours sleep as we slogged slowly to windward with the distance to destination on the chart plotter dropping incredibly slowly. As dawn arrived, the wind shifted slightly in our favour but we still couldn't lay the direct course and we made several more tacks before St-Martin hove into view and we knew that we would be able to be able to arrive before it got dark.
About 5 miles out of Marigot Bay we furled the headsail and motor sailed into the anchorage dropping the anchor at 3.35pm. The trip time was just over 28 hours, 13 of them under motor sail. The log showed we had covered 141 miles when the straight line distance was only 74. How true the saying that only mad dogs and Englishmen sail to windward.
After bailing the dinghy of all the water it had taken on jumping over the waves, I motored in to the Immigration office to clear in but it had closed 15 minutes previously. No problem, come back tomorrow and meanwhile enjoy Marigot said the official. Quite a change from the stern warnings and looks of the BVI immigration officers.
However, we were all very tired and agreed that eating ashore would probably result in us falling asleep in our dinners so we had second helpings of the great bolognaise that Sam had made for the trip across and had only half eaten the night before. This time we were able to enjoy it without fear of losing it over the side or in our laps. With the addition of red wine it was even better second time around. (Isn't it always?)
Next morning, we completed the immigration process and decided to take a walk around the town to get our bearings. Marigot Bay, St-Martin is the French half of the island, the other half being called St Maarten and is Dutch in origin. Our initial impressions were good and were made even better when we found the big supermarket jam packed full of wonderful French foods and delicacies. Jim and I headed for the wine section while Sam and Diane made a beeline for the cheeses and pates. I even managed to pick up a British newspaper! Not seen one of those since we left Lanzarote.
Part of our orientation was to locate a good French restaurant for lunch and we all agreed on one that looked a likely candidate. A first floor open terrace affair overlooking the harbour. What a great choice! We stared slavishly at the menu as we sipped on a chilled bottle of Sancerre. This was going to be a starters and entrees blowout of magnificent proportions - and so it was. We staggered out into the late afternoon sun about 2 hours later with a siesta the only viable option. Our plan to eat again in the evening dead on the vine. But we had a plan! French bread, French wine and French cheese in the cockpit. Heaven!
For Jim and Diane's last day we had decided on an island tour by hire car and by 10am we were off in our rented Toyota Avensis heading for Philipsburg, the capital of the Dutch side. Quite a contrast - as we crossed the invisible border the signs turned from French to English (did we expect Dutch?) and a Burger King and KFC hove quickly into view. The traffic thickened as we entered town and it soon became apparent that parking in Philipsburg required a special skill, a private parking plot or eagle eyes and patience. After a few failed attempts we finally dumped the car a mile or so from town and walked in. What a contrast from quaint Marigot. This was mass commercialisation at its best/worst. Huge buildings going up all over the place. We headed for the seafront as the parking trauma had made us all ready for a quick refreshment before tackling the shops of Philipsburg which being one of the great cruise liner stops are in the Caribbean are jammed with every conceivable "upmarket" brand of jewellery, clothes, perfumes and tourist tat. After a couple of hours, Jim looked shell shocked and dis-orientated and we agreed it was time to find a more agreeable spot for lunch but not before Sam had managed to find a new camera and I had bought a 50% off Heineken Regatta T shirt for $8 - I do love a bargain!
We found the car amongst the building rubble and headed back out of town taking the 'alternative route' south around the lagoon and the airport in search of lunch. We crossed back into "France" before seeing a sign for a beach restaurant where we ended up having our second great French meal although this time we restricted ourselves to the main course (which were huge) although Sam couldn't resist a chocolate desert which we all helped her to finish. We were back in Marigot by 5pm and after a quick shower at the marina (one and half euros for 5 mins of cold water) we took the dinghy back to the boat and relax.
This morning we took Jim and Diane back to the dock to get a taxi to the airport to fly back to Tortola. Thanks for your great company Jim and Diane.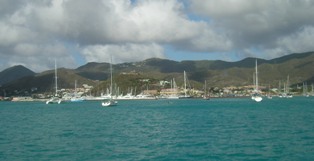 Marigot Bay - St-Martin
---