Guadeloupe to Antigua (English Harbour) - Our Christmas destination

Imagine Of Falmouth Online Log
Jon Constantine
Sun 21 Dec 2008 14:45
Sun 21st Dec 2008

6.45am and we're off again on the 40 mile leg to Antigua. A romping sail with 17 to 26 knots of wind and huge Atlantic rollers, hand steering all the way. We're just off the wind and making the course easily. Lots of other yachts seemingly headed for Antigua too. We over-hauled several of them - racing never really gets out of your system!!!! Plenty of sea water coming across the decks and a couple of major dunkings in the cockpit - Woohoo! Great fun. 8 'short' exhilarating hours later and having logged 44 miles we eased our way into English Harbour and anchored near the beach in Freeman's Bay, just a short dinghy ride over to Nelson's Dockyard.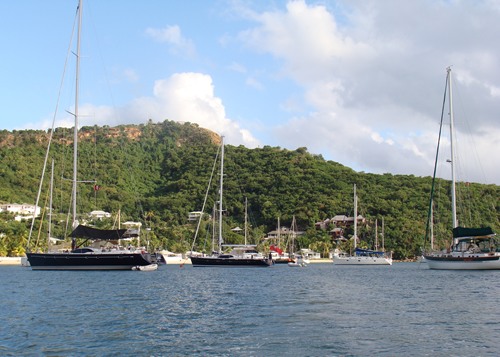 Nearly there! We can see the boats anchored in Freeman's Bay - Looks busy Freemans Bay (Matsu to the far right of the pic)

Not brilliant holding and it took 5 attempts to get the anchor to bite! Went for a snorkel to check the bottom. Sand and bits of coral. Not good. I snorkelled the fortress anchor out as well as a precaution before we went ashore to clear in.

Antigua (although Jolly Harbour not English Harbour) was our first landfall when crossing the Atlantic exactly a year and 12 days ago to the hour We celebrated our belated anniversary in style with GnTs and ice ashore at the Galley Bar in Nelson's Dockyard! We've yet to find a way of making ice on-board as we only have a fridge, so this was a real treat.

We've spotted some pals here already - Tim & Linda on Matsu (we met them in The Saintes last year) and Peter & Wendy on Keesje II - and many other boats that we recognise from our cruising this past year, so lots of socialising and catching up to be done.......



Boats moored up at Nelson's Dockyard Roger Taylor's yacht moored up opposite the Galley Bar

We headed back to the boat for dinner and an early night listening to the steel band playing above us at Shirley Heights. We're here at last with 4 days in hand to get settled and ready for the celebrations to come........



Galleon Beach and Shirley Heights right on the cliff top Shirley Heights


---