Antigua - Friends & Family

Imagine Of Falmouth Online Log
Jon Constantine
Wed 7 Jan 2009 00:00
7th Jan 09 to Fri 16th Jan 09

We're in Falmouth Harbour now after our few days away. It's quite a large anchorage and the big yachts are still here, namely the Maltese Falcon.



The Princess (with chopper!) and the Falcon in Falmouth Harbour

We've decided to stay here for about a week. Mum & Terry are due in a couple of days and staying for a week in a cottage next to Chris' house that overlooks Falmouth Harbour. Some other friends of Chris from the UK, Sam (who I know as little Sam) & Rick, are staying with her and are already here. Jon and I spent an evening with the 3 of them before my folks arrived, up at Shirley Heights. It was a Thursday night so not busy (the main night is Sunday) but the music was good and so was the rum.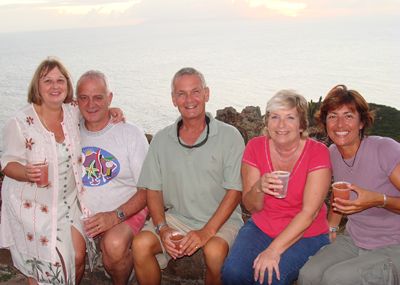 Little Sam, Rick, Jon, Chris & Sam Sunset from Shirley Heights over Montserrat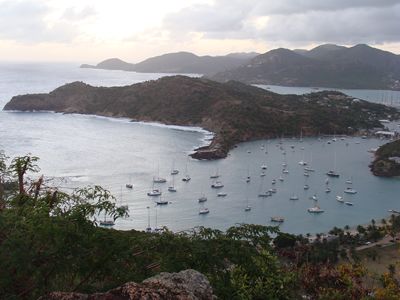 View of English Harbour......... .....Closer



....and closer still. Now you can see Imagine in the middle

Anyway, we spent the next few days getting the boat ship shape and planned where we were going to take them once they'd had their first week ashore. They did their own thing once they arrived but we met most evenings for dinner and had a great Sunday lunch at one of the beach bars near Jolly Harbour. Can't remember the name of it but it was next door to OJ's, a bar/restaurant Jon and I went to a couple of times last year with the BWR gang when we first arrived.




Waiting for our Fish & Chips on the roadside in the rain! Dinner at Trappas



Sunday roast - Fabulous!




---