Grenada - Back to Prickly Bay from Hogg Island

Imagine Of Falmouth Online Log
Jon Constantine
Tue 15 Jul 2008 11:00
Tues 15th July to Sun 20th July 08

Upped anchor and left Hogg Island for Prickly Bay at 10am. Only took us an hour but anchoring became a bit of an issue on arrival. It was too rolly in the middle of the bay and we were too close to the reef on the Prickly Bay Marina side of the bay. Third time lucky, we dropped the anchor close to Spice Island Marine and thankfully the rolling was minimal. Had a chat with Lee & Cindy on s/y Tranquility with regards to leaving and we've all decided on tomorrow night depending on the weather forecast.

We spent Wednesday morning tidying the boat and getting her ready for leaving tonite. Seem to have lot of flies on board at the moment. Cleaned everything with vinegar which got rid of them for a couple of hours but they just keep coming back. Such a pain. We later dinghied ashore, cleared out and got some final provisions. Fede and Michael (George has gone back to the UK now for a couple of weeks) on Blue Sky kindly donated some chocolate (Toblerone - lovely) for the trip as there was none to be had in the local shop. Can't do an overnight sail without it!!!! Lee and Cindy came over to the boat later in the afternoon to say that a tropical wave had been forecasted for tonite/tomorrow with winds of 40 to 50 knots expected between here and Trinidad. After a bit of a chat we've all agreed to wait until after the weekend before heading off. The first causalty of sailing - the plan! Oh well. We like it here so not a problem.

We cleared back in again on Thursday and luckily they didn't charge us again when we told them why we were delaying our departure. We will just check out again on Monday. It rained all day today but we managed to get ashore early evening for pizzas at the Tikki Bar in between showers. The food was good but the wine was very expensive so we didn't bother buying a bottle. We had lunch at the Big Fish on Friday but won't be doing that again in a hurry. Very cheap but the food is pretty horrible!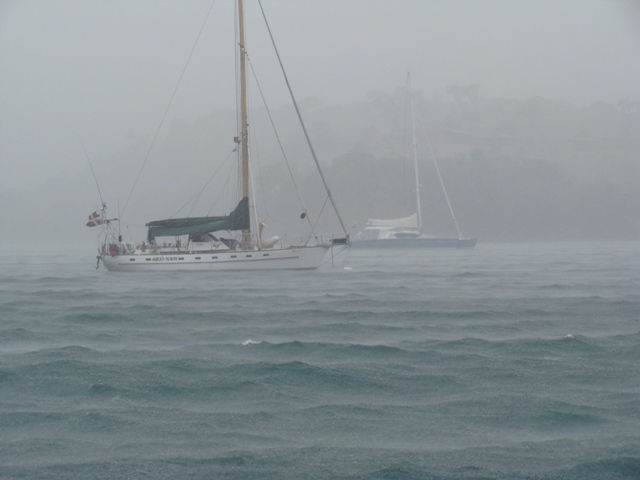 Thursday lunchtime weather - not pleasant - a definite duvet day!

On Saturday we met up with John and Andy for lunch at the Yacht Club in St George's. They just can't get rid of us!! Jon and I shared a mahi mahi roti and chips with a couple of beers. Best food and value for money we've found so far on the island... After lunch we went for a walk into town and the guys showed us around. There's a large fruit and veg market near the bus depot and we also had a wander around the new cruise ship shopping mall. Very posh! We said good bye yet again and took our respective buses back to our boats. We didn't bother with a meal in the evening as we were still so full from lunch. Still managed to devour a mound of popcorn though while watching a movie!

We had a very busy and 'expensive' day on Sunday. It all started well enough with Jon putting a coat of Semco on the sugarscoop teak (protects the wood but without using varnish or oil) and then I gave him a haircut. While we were feeling so motivated we decided to take the dinghy ashore and give the bottom a good scrub. The best place is the beach where the Calabash Resort is. All beaches are open to the public regardless of any buildings inshore from them so we spent the next hour or so cleaning the dinghy there. It was very hot and thirsty work and we decided to treat ourselves to a drink at the bar. It was funny because we were the only ones there and thought it very strange that there were no other yachties here even with plenty of boats in the anchorage. We soon found out why. At EC$67 for two rum punches no self respecting yachty would drink here. A whole bottle of rum costs around E$20. Wow. We only just had enough cash on us to pay the bill and were left with 10 EC$. Never again.



---