Menorca to Sardinia

Imagine Of Falmouth Online Log
Jon Constantine
Thu 29 Sep 2005 12:00
28th September 2005.


After a quick conflab, we decided to head straight for Sardinia to try to beat the weather and hauled in the dinghy and stowed the anchor in its locker. As you might now imagine, the wind knew what we were up to and had swung around so that we had no option but to motor sail into it to get around the south tip of Menorca and set a more northerly course towards our final destination. Once around, we got onto starboard tack and set a course – about 45deg AWAY from where we wanted to go! We tacked every half hour or so but by sunset, we still had a lovely view of Mahon which didn't seem to be getting much further away so it was back on with the engine and furl up the headsail to make a better course with more speed or we would be missing the flight home in 5 days time! Anyway, what the hell, it was a lovely starry night and we all sat in the cockpit watching for shooting stars and enjoying the sight of the strange luminous jellyfish that were shooting out behind us at 6 knots. I decided to head north of the direct course as the wind was predicted to be from the north and I hoped that when it did come back (as it always does), a more northerly position would give us a better angle for sailing to Fertila. This tactic paid of well and by 4 am we were 26 miles north of the rhum line and we could switch off the engine and sail the course. Off we went at 6 to7 knots. It was a great sail all the next day (Thursday) but the wind started to increase as predicted but it did start to swing NW which was even better as we were now heading 90 deg and thus broad reaching. By evening the seas were building up and it was getting quite rough with the waves starting to break on the tops. We took the first reef in before it got dark. Soon after that, we reduced headsail as well as we were now creaming along at 7 knots. Far faster than my prediction which meant we were going to arrive off Sardinia in the dark in a F6. Not ideal. We tried to slow down a bit by rolling away most of the genny but "Imagine" was having none of it and raced on at 6.5 kts. Damn! ETA 04.00!
By 2 am the seas were lifting our stern and trying to screw us around into the wind with rather unpleasant results as the wind was blowing 30 odd knots once we turned towards it. The auto pilot was starting to complain and was having trouble getting us back on course so I decided to take over and realized why. Once the boat started to round up with a wave under her stern it was a devil to get her back on course and in the pitch dark with the sound of the breaking waves and wind, I decided it was time for lifejackets and harnesses all round. By 03.00 hrs, we could see the lighthouse off Fertila and the wind had stepped up another gear and any broaches resulted in a howling wind and wet spray coming over. It was going to be a dark arrival but somehow that seemed a bit more appealing than staying out in this weather.
By 04.00 hrs we were passing the headland with the lighthouse way above us as we screeched into the bay and tried to find some shelter so we could anchor. No chance! We tried two or three coves but it was just too windy to even contemplate it. In the end we hid behind a cliff in complete shelter but with 30 meters of water. It was now only about an hour 'til daylight so we motored gently round in circles listening to Robbie Williams. Once we had light, we motored slowly down the last bit of coast towards Fertila and into the marina (!) or more accurately, boatyard, at 7am. We were all quite tired and needed some sleep.
My brother was due to arrive that evening and we borrowed the dilapidated car for the short run to the airport. This car was harder to keep on course that "Imagine" and needed some serious work on its steering mechanism. We went out for a well earned dinner that evening and like all good sailors, decided we needed more "practice" so made a plan to take a sail back up the coast to the bay we tried to anchor in this time had a lovely sail (quite different now to what we had arrived in). We anchored in the bay and spent a great evening. Tales were told and much alcohol consumed!
Another gale was forecast (was this really the Med?) and by 11am we were dragging our anchor on the weedy bottom so we headed back to Fertila under genny alone and were soon back on the mooring under grey skies and rain showers.
With just one day left, we borrowed the "banger" and took a trip into Algero for a look round the fortified city. This looks like a good place to spend some time but that's for another day!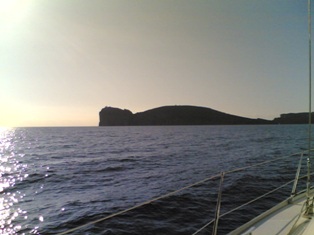 Porto Conte in Daylight. Cliffs at Punto del Giglio where we sheltered til daylight

.

---