The Saintes

Imagine Of Falmouth Online Log
Jon Constantine
Fri 23 Jan 2009 17:45
Fri 23rd Jan to Weds 28th Jan 09

We left Deshaies at 10am for the Saintes. Nothing like a good brisk sail to blow away the blues. We soon put our troubles behind us and enjoyed the journey down to the Saintes, another long trip taking us just over 7 and a half hours, reaching the anchorage in Anse du Bourg just before sunset. After late cocktails and dinner we were all very tired and so early to bed. None of us slept too well though that night as the anchorage was so rolly. We'll go ashore tomorrow to explore and think about moving if this rolling continues.



Are we there yet? Nearly.... Are those smiles of relief? ......here at last!


Croissants for breakfast .....and chicken for lunch? Noooooo, he's too cute!

We spent the day ashore exploring the town and getting a few provisions. I knew Mum & Terry would like it here. Well worth the long journey to get here. Still very rolly in the anchorage so we're going around the corner to Anse á Cointe (Pain de Sucre) tomorrow, a much more sheltered anchorage.

A good plan. No roll here at all. We had a great day swimming and exploring ashore. We went up to the cross on the hill and then to the beach on the opposite coast.



The cross and chapel from the anchorage It's bigger than you think



View of Pain du Sucre from the top View of Ilet á Cabrit, Pain de Sucre and Anse du Bourg from the top

It's now Wednesday, our last day here and we need to go back to Anse du Bourg to clear out. We also want to visit Fort Napoleon and the museum there.




A very long, hot walk up to Fort Napolean but well worth the effort



Stunning views too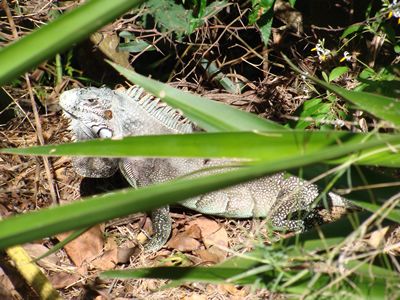 An Iguana we spotted on the walk back down And a well earned glass of Rosé with lunch at the bottom

What a great day and rounded off with meeting up again with Peter and Wendy from Keesje II. They came aboard for sundowners; a great fun night and lovely to see them again. Tomorrow Deshaies again....



---