Virgin Gorda , Norman & Peter Islands

Imagine Of Falmouth Online Log
Jon Constantine
Fri 20 Mar 2009 16:10
Weds 18th March 09 to Mon 23rd March 09

It'll be a night sail to Virgin Gorda in the British Virgin Islands so we're going to catch the 2.30pm bridge-opening to Marigot Bay so that we can go ashore to clear out. We gave ourselves an hour and a half to make our way to the bridge as we'd seen a few yachts go aground so we wanted to take our time and make sure the same didn't happen to us! Famous last words. What a nightmare. We could see the marker buoys but could we get to them with out touching bottom?!?!? No chance. We tried several different routes and even followed our original route coming in using the chart plotter, but to no avail. We went back to our original spot and re-anchored. Now what do we do? First things first, we still need to clear out so we took the dinghy ashore to get that sorted, grabbing some bread and pastries on the way back. We decided there was nothing for it but to go out through the Dutch bridge, which opened at 4.30pm. We weren't even sure whether we would be allowed to do this as officially we'd checked in and out of the French side. Thankfully, after a quick chat on the VHF with the bridge controller, we were given permission.

So, up comes the anchor again, well most of the way. The anchor windlass stopped working. I had to haul the last metre or so of chain up by hand which is no easy feat with a 35 lb anchor on the end of it! We eventually motored very cautiously through the lagoon over to the Dutch side. It was pretty stressful at times as the depth kept dropping to within centimetres below the keel. Then without warning, while gilling around in the channel watching the bridge open a big gust of wind caught us off guard and we ran aground AGAIN! How many more times?! Jon kept very calm and slowly reversed us off the bottom and back into the channel and we finally motored through the bridge and out into Simpson Bay. At last, we can finally get going.

Thankfully, we had an uneventful night of sailing and arrived in Spanish Town, Virgin Gorda at 11am the following morning with 88.6 miles logged. From past experience we know that it is much easier checking into the BVIs from here rather than doing it in Tortola, so although it's often rolly here it's worth it for the hassle-free process. Now that the windlass isn't working we used the lighter fortress anchor attached to a line instead as this is much easier to manage. We'd heard from Blue Sky who were a few miles away in Trellis Bay in the North of Tortola, on the VHF earlier that morning (we'd kept in email contact and they knew we were on our way) and we arranged to meet them at Key Bay on Peter Island the following day.

So after lunch the next day (Friday), having been ashore to collect emails and fuel we headed off towards Peter Island. The winds are generally from the NE this time of year so this would have been a nice sheltered anchorage but unusually the winds had swung around to the SE. We let Blue Sky know the situation as they hadn't left yet and arranged to meet them in Benures Bay on Norman Island instead. We had a fabulous sail there with light winds just forward of the beam. The sun was out and the skies and sea were that perfect Caribbean blue. Good weather at last. Benures Bay is beautiful. We've not been here before but we found a nice little spot and again used the fortress to anchor. Although it was almost 5pm by the time we were settled the sun was still out and we went for a snorkel. Our first swim in about 3 weeks!! There were so many fish. It was fabulous. The highlight was swimming with a Spotted Eagle Ray. Absolutely amazing. I've only seen them a couple of times before when diving in Honduras several years ago, and then only briefly as they are very shy. Here, it really wasn't worried by our presence at all and we swam with it for ages. Oh to have had the camera! Snorkelled again with the camera over the next couple of days but we never saw him again. I did however come across two of the biggest Barracuda that I've ever seen and got a photo. It's not too clear but I really didn't want to get that close!



Bar-Bar-Ra-Ra-Cu-Cu-Da-Da! Happy? I remember happy! (A Hamlet)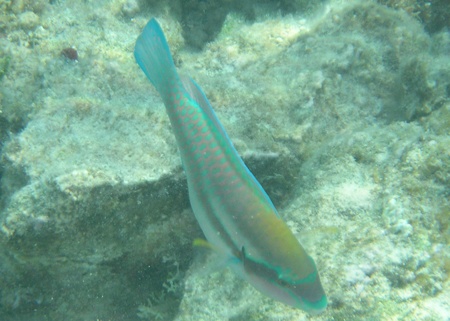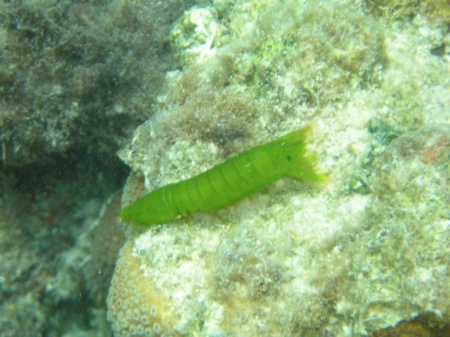 Striped Parrotfish No idea, it's not in my book. Maybe a type of Mantis Shrimp. Doesn't look very appetising!

It's now Saturday and Blue Sky have invited us over for breakfast. We were just about to leave when Imagine swung around to within several feet of the boat nearby. We had anchored well away from him but the winds are very fluky here and often the boats don't swing in the same direction as is usually the case. We probably wouldn't have touched but the guy on the other boat wasn't too happy so, as he was anchored here before us, we moved further away from him. Once the anchor had set we whizzed over to Blue Sky in the dinghy. Sitting around drinking our coffees we suddenly realised that Imagine had moved and was no longer in sight! I can't even begin to explain how we felt. We both jumped into the dinghy and shot back across the bay, our hearts in our mouths. And there she was, on the rocks! We scrambled aboard and I ran to the bow and Jon stood at the wheel not daring to start the engine. Luckily, the guy from the boat that we'd moved away from had spotted Imagine dragging and had dinghied over to help. He grabbed the anchor line and slowly pulled us off the rocks and into deeper water. Jon had started the engine by now and once we'd found a good spot I hastily dropped the main anchor by hand. I immediately donned my snorkelling gear and went to inspect the damage. What a relief to see that we'd only slightly scraped the keel and rudder and there appeared to be no structural damage to them or the hull. I checked the anchor to make sure it was well and truly embedded in the sand and came back on board. Jon took a look in the bilges to see whether there was any cracking around the keel bolts but all was fine. We were very lucky. If there'd been any kind of swell or strong winds in the bay then...... well..... it doesn't bear thinking about! When we'd finally calmed down a bit and were happy with our anchoring we headed back to Blue Sky to finish our breakfast.



The rocky coast of Benures Bay that we dragged onto.

Late Sunday afternoon the four of us went ashore for a BBQ. We built a fabulous fire from all the driftwood lying around. Doesn't look like anyone has been here before. A great fun afternoon with much vino collapso consumed before heading back to our respective boats just before dark. This will be our last get together for some time, maybe even years, as they are are off to the Dominican Republic on Tuesday. They're going to spend the rest of the season making their way to the Panama Canal and through to the Pacific. We are going to miss them hugely as they've been great sailing/drinking companions!

The next morning we were up pretty late feeling a little worse for wear, and decided to head over to Key Bay on Peter Island as the wind has now swung round to the NE and it's a bit rolly in here. Jon manually hauled the anchor up and we motored across the short distance to the now more sheltered bay. No rolling and we have plenty of breeze to keep the KISS going. Excellent. The boys later joined us having sailed over to Road Town and back, to clear out. Their big adventure starts tomorrow.




---