Turtles and more dramas in Bequia

Imagine Of Falmouth Online Log
Jon Constantine
Sat 13 Jun 2009 23:00
Sun 14th June 09 to Sun 28th June 09

Well, here we are, back in Bequia again one year later, almost to the day. Nothing's changed, it's still a lovely island. We can get a pretty good wifi connection on the boat here so we spent a lot of time catching up with emails and internet stuff. We are actually still kind of working so we're making the most of it. After Bequia we probably won't get any access for a couple of weeks, until we get to Carriacou.



Jon on a non-work day! Does he look guilty?



One of the lovely views from the boat The whistling boat man in his boat 'No Complain'

Jon has been experimenting with baking again and produced some biscuits this time. It's great having a chef on board. Very nice but needless to say they didn't last long! A bit too moorish. Not to be outdone I had a go at making my own sun-dried tomatoes; no cooking involved! A bit of a disaster really. Firstly, on day 2 the wind caught under the plate and it went flying into the sea although most of the tomatoes survived, landing on the deck. Will have to snorkel for that later, although it's in very deep water, about 8 metres, and I'm not sure that I can free dive to that depth. They seemed to be doing quite well after that until day 4 when they all went mouldy! They followed the trajectory of the plate! It's just too humid here now. Oh well. I didn't have to go down and get the plate after all as a few locals were out snorkelling, looking for lost treasures (basically all the stuff that the yachts here have dropped overboard!) and they found my plate. I got it back but I'm not sure they'd have given it back if I hadn't spotted what they were up to and told them it was mine. I'll give them the benefit of the doubt!



This really was a stunning sunset and these are the actual colours.

We did all the usual boat chores while here - laundry, cleaning, provisioning etc plus I donned my scuba gear to scrape off the little marine eco-systems that we've acquired on the keel and prop. I even found some little crabs in the gap between the hull and the top of the rudder. How they survived there or where we picked them up, I really don't know. They have a new home in Bequia now!

We'd done a little bit of exploring when we were here last time but not a lot really. Carl & Gertrude suggested a visit to the Turtle Sanctuary, about a 2 mile hike to the northern end of the island, so off we all went. It was a long, hot walk, mainly uphill I might add, plus a bit longer as we lost our at one point and had to retrace our steps, but it was worth the effort.



Stunning views on the way to the sanctuary.....



.......and some rather nice properties too.

The chap who runs the sanctuary, Orton King gave us a personal tour and lots of info on his work there. Very admirable. He also has tortoises and a whole menagerie of other animals on his land.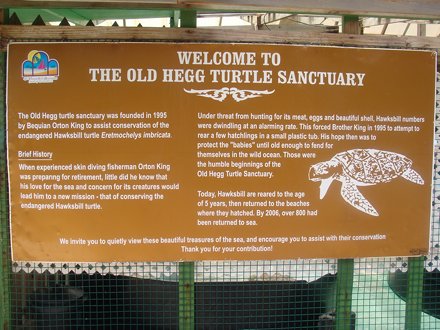 I didn't really relish the walk back later, although it would be mostly downhill, and to my glee we met a young couple who kindly offered to share their taxi with us back into town. Good on 'em! A couple of cold beers and a roti for lunch back in town rounded off the day very nicely.

It's Sunday today so we're off to the beach in Lower Bay for lunch at De Reef. It's right on the beach and has a good view of the bay. We pulled our dinghy up onto the beach and above the waterline where we could keep an eye on it. Well here starts the drama. We'd just finished eating and were chilling out, gazing across the bay when we spotted a dinghy arriving. When it got closer I said to Jon that I was sure the guy on board was Mr Texan (last seen haring off in his dinghy in St Lucia). And it was. Uh oh. I really hoped he didn't recognise me. Anyway, instead of hauling the dinghy up the beach to keep it out of the surf he'd taken the painter, tied a little anchor to it and buried the anchor in the sand a little way up the beach. All well and good...if there's no surf! Well we sat that for maybe 10 minutes watching this dinghy getting bashed up and down the beach and slowly filling with water from the waves. Mr Texan meanwhile was at the bar having a drink. Some minutes later the painter managed to untie itself from the anchor and the dinghy was suddenly free. We watched for several more minutes in anticipation as the dinghy rode up and down the beach each time moving a little further away from the shore on each ebb. It wouldn't be long before it escaped totally, out into the bay and out to sea. Should we tell him? Maybe, maybe not! Haha! We're not totally heartless. I wandered over to him and said "excuse me Sir but I think you should check your dinghy". He was off like a shot. Jon and I sat chuckling away, watching him wade out to retrieve the escaping boat. It hadn't gone far so he didn't get too wet! I don't think he recognised me at the time but I wonder if sometime later he would remember my polite English voice and the words, "excuse me Sir....". No doubt we'll make his acquaintance again sometime soon, as we head south!

We actually ended up staying in Bequia a little longer than planned due to a tropical wave coming through. Nunki decided to leave before it as they have a tighter schedule to keep than we have, so we said our goodbyes. We decided to hang on and wait for the good weather to come through as our next stop is the Tobago Cays. At last we're going to visit them. We didn't stop there last year as the weather was horrendous back then and this year we were on a mission to get to Antigua for Christmas so didn't have time. Third time lucky as they say. Fingers crossed.


---