Jolly Harbour & Carlisle Bay - First sail of 2009

Imagine Of Falmouth Online Log
Jon Constantine
Tue 6 Jan 2009 00:00
Fri 2nd Jan 09 to Tues 6th Jan 09

Now that our hangovers have gone and the celebrations have come to a close it's time to think about doing some sailing. That's why we're here after all! We have a couple of weeks before my folks arrive so time to leave English Harbour for a while. We've decided to head up to Jolly Harbour for the weekend, just a short sail up the coast, to blow away the cobwebs. We left just after lunch after saying our goodbyes to Keesje II. We'll be catching up with them again soon I'm sure.

Fabulous. We finally have the wind behind us with calm seas. We sailed goose wing pretty much the whole way. Took us just under 3 hours to cover the 13 miles to the anchorage. We stayed inshore keeping well away from the 2 reefs Cades and Middle. A yacht called Oboe managed to run aground here over Christmas. You can see the water breaking over the outer reef, Cades, but Middle reef is submerged although no excuse really. It's well charted. Apparently the skipper wasn't paying attention, playing with his grand kids! The water is quite shallow here between Middle Reef and the coast but plenty for our draft.



Lovely houses on the coast Five islands at the entrance to Jolly Harbour

We dropped the anchor in 3 meters of water in the anchorage outside of Holly Harbour, no anchoring inside. Plenty of wind and a bit of a swell but nothing to worry about. Very good holding here but it doesn't look very inviting for a swim. The water is a very milky turquoise colour.



Is it a frog....is it a mouse....whatever it is, that yacht is heading straight for it!!!!

We went ashore the following day for lunch at Peter's Grill. The lunch special was BBQ'd pork chops, fries and salad at an exceptionally low price. It was excellent, washed down nicely with an ice cold bottle of Wadadli, the local beer. (Wadadli is also the old local name for Antigua). Next stop the Epicurian supermarket. It's huge and you can get pretty much anything here so we stocked up well. And so back to the boat for sundowners and relaxation.

Today is Sunday and we've decided to sail up to Sandy Island for a look-see. None of the bays really took our fancy plus it was much windier so we turned back heading towards English Harbour again. We didn't feel like going back there just yet so we nosed into a few bays and finally decided on Carlisle Bay. It had a good write up in the pilot book as being very secluded and seldom visited by yachts. It was lovely. Only one other boat there and it that left just before dark. We anchored away from the beach (to avoid the new resort there) and by the shore on the eastern part of the bay. It was well protected here from wind and swell and people!!! Perfect for couple of days R&R.



Imagine, well away from the resort in Carlisle Bay Trip ashore

We did go for a little dinghy ride the following day to the resort beach to have a look but didn't bother going ashore there and settled for going to the rocky coast opposite us.



Jon doing a spot of rock climbing Dried out riverbed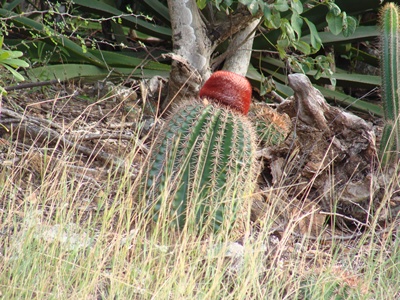 Funky Cactus

Tomorrow we are going to head back down the coast to civilisation, in Falmouth Harbour this time after a great chilled out few days.



---