Easter trip to Fertilia (Sardinia)

Imagine Of Falmouth Online Log
Jon Constantine
Thu 6 Apr 2006 00:00
6th – 9th April 2006
As both Imagine and Night Owl (Dave's boat) are in Fertilia at the moment it was decided that it would be good to do a road trip to get a load of sailing gear down to them. We loaded the Dave's trouper up to the gunnels with sails, anchors, loads of anti-foul (for us and the other boaties as very expensive to buy in Sardinia), a fridge, a roll of headlining, diving equipment, tools and an outboard to name just a few. On the top we also managed to tie on 2 spinnaker poles and 'the coffin' onto the roof. The next morning the 3 of us set off from Tunbridge Wells at 5am. We really did have everything but the kitchen sink!!!
OK, so Jon & Dave are in the front. Where do I sit???? Time for a beer to think this through………
We boarded the ferry at Dover and made the crossing to Dunkirk where our journey through France to Marseilles began. We stayed overnight in Dijon at the Campanile and arrived in Marseilles the next evening and boarded the ferry 2 and a half hours later. The crossing wasn't bad and the meal was very reasonable. The bar was another story! The drinks were very expensive when we finally managed to get served at all and the waiters were extremely surly. Too much hassle in the end so we retired to our cabin for a kip for the overnight passage.
We certainly needed this stop on route!!!!
We finally docked at 11.45 on Sunday the 9th in Porto Torres (Sardinia) and drove the short journey to Fertilia. Here at last. The sun is out and there's not a breath of wind. A very hot day for the huge chore of unloading the trouper!! Luckily our friends Laurie & Liz invited us onto their boat for a beer and some lunch. It took us all day to unload and stow everything aboard Imagine, not very tidily I might add – that would have to wait until later. It was just a relief to get it all onboard. Jon noticed that Imagine's waterline had all but disappeared!! Oh well, we'll just have to raise it!!!
It was good to be back and to catch up with our pals and to start getting things sorted out on the boat. We also heard that we had some new arrivals. One of the dogs has had puppies while we've been away. 5 we think. So Cute.
Here's Mum on a biscuit hunt. "Oh, the kids are calling?" "Hurry up Mum, we're very hungry!"
10th – 16th April 2006
Fertilia is very busy compared to usual, probably due to the local elections going on the day before plus we are coming up to Easter. Jon has refitted the Garmin and it's now working! Also sorted the downhaul, cleaned the teak in the cockpit and fitted the spinnaker pole amongst other things. Had a great BBQ on the beach with the other yachties on Thursday (13th) Drank far too much Limoncello!!!
We went for a couple of sails up to Porte Conte (just around the corner) to check out our new cruising chute. Works fabulously and we have the luxury of a snuffer. Never used one before. It's gonna be great for 2 handed cruising.
Our scrummy new cruising chute.
17th – 22nd April 2006
Peter Benton arrived on the evening of Easter Monday for a weeks stay on Imagine. We decided to do a mini cruise to Bosa, a 78 nm round trip south of Fertilia so after a day of settling in and provisioning we set off on the 19th April at 11am. It was a great sail with light winds and needless to say the cruising chute went up straight away. Any excuse to play with our new toy! We arrived around 16.30 and moored up against the quay. Bit rolly. Went for a wander into the town for a beer but couldn't find a restaurant so decided to eat on board. Once back a the boat we decided to anchor in the bay as far to uncomfortable on the quay and not doing our fenders any good. Much better. Peter is looking very pink!!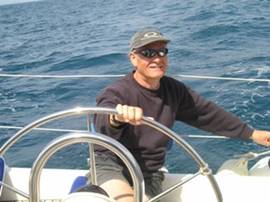 The Skipper in control….. ….and the crew? Alternative entrance to Bosa! Gave it a miss!
We left the next morning expecting a beat back but the wind was in our favour and after one tack we had a great sail back with 17 knots of wind. Rather than going straight back to Fertilia we carried on up to Porto Conte. Dropped the anchor at around 18.00 and attacked the sundowners. Blissful.
Moored alongside the quay in Bosa The Entertainer! More elbow grease lads!
The next day we just chilled at anchor. We gave Peter a haircut which came out ok I think!! Did a bit of boat cleaning and stopped for lunch with a cool beer. Very hot now. Finally headed back to Fertilia late afternoon. Peter very kindly took us all out to dinner that evening as a thank you for the trip. Our pleasure. We had great fun.
After dropping Peter off at the Airport we went over to see Anna & Tim on Cougar for a drink and some homemade Minestrone Soup. We heard music coming from the town so wandered over to see what was happening. All finished by the time we got there but seems to be a warm up for a 2 day festival on the 24th & 25th. We think it's to celebrate their National day???
23rd – 27th April 2006
Only 4 days left before we have to go back to the UK L . We managed to get one more sail in before leaving, over to Alghero, to practise poling out the headsail with the cruising chute up. All went well but then the wind died. At least we know it works. That evening we went into Fertilia to check out the festivities with Dave, Ray and Kyle ( a new arrival) – lots happening with a BBQ, stalls, live music and some very dodgy looking line dancing moves going on!!! Went back to Imagine for a cockpit party. Later joined by Anna & Tim. Much Limoncello and a Cherry Brandy type drink (with real cherries in it) were consumed!!
Jon, Kyle, Sam and Dave in Fertilia Alghero Our dinghy including visitor.
Last jobs accomplished before going home – solar panel fitted and bilge measured for flexi-water tank. Our boiler is now on the blink, corroded and leaking. That'll be a job for next time we come out!!!
We had one more social event the day before we left with a drinks party at lunchtime and later a surprise meal in Alghero for Sharon's birthday. John, her hubby kept it very quiet and she had no idea. A bit of a shock seeing all of us boaties in our best attire sitting in the restaurant waiting for her, when she was expecting a quiet meal for 2 with John!! A great way to finish off our trip as we got the chance to say goodbye as we're not back until June and who knows who will still be around…..
---