Grenada - Prickly Bay to Hogg Island

Imagine Of Falmouth Online Log
Jon Constantine
Sat 5 Jul 2008 16:20
Sat 5th July 08 to Mon 14th July 08

We awoke with rather large hangovers on Saturday. Nothing a lie-in, a swim and a bacon sarnie couldn't sort out though. So, after going to the fuel dock for diesel we motored the 4n. miles around to Hogg Island where Happy Spirit have anchored. Bit of a tricky trip having to navigate around a bunch of rocks called The Porpoises and Tara Island and then following a buoyed channel into the bay through a very shallow reef. We went the long way round past the reef as the route through the reef was missing some buoys.... We dropped our anchor in behind a boat called Lily Maid and next to Happy Spirit. Turns out Lily Maid belongs to Mick and Alison who are the parents of Tom, who we'd met in Bequia sailing on Delphine with Michelle. Small world. Good to catch up with John & Andy from Happy Spirit again too. We went to Roger's Bar early evening for beers with them and met Mick & Alison and Fi & Ivan and later were joined by Tom & Michelle with Tom's little brother Jim and his pal Johannes.



Hogg Island to the right, home of Roger's Bar View of the shoals and the reef beyond from the Hogg Island anchorage

We spent Sunday exploring the area by dinghy as lots of little bays around here . Found a great bar and friendly barman in Martins Marina in Hartman Bay. After a couple of beers and on our way back to Hogg Island we anchored the dinghy by the reef opposite Tara Island and had a snorkel. Very shallow and clear. Not much coral but what there is was quite pretty with lsome ovely sea fans. It was late afternoon by the time we got back to Imagine so we quickly prepped some food and went over to Roger's for a BBQ that Tom & Michelle were organising. Roger doesn't seem to mind people doing their own BBQ as long as we buy beer from him. A good fun evening. There's a great community feeling here. Think we will be very happy here.




The Sunday Hogg Island BBQ at Roger's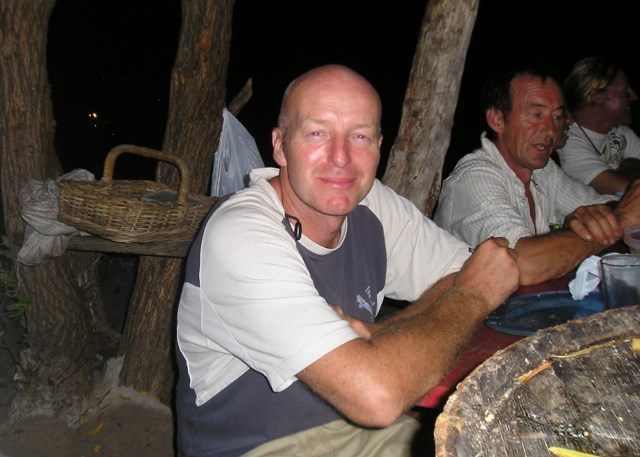 John & Andy from Happy Spirit

The following week here in Hogg Island we spent exploring and chilling out. We also managed to get quite a few small jobs done on the boat. We've not been able to get wifi here but we went back to Martins Marina a couple of times to use theirs as it's free when you have a drink there!



Stunning house viewed from dinghy on our way to Martin's Marina

On Friday we went into Grand Anse to get some shopping at the supermarket in Spice Island Mall, by air conditioned bus! Luxury, but you do pay for it. EC$20 each for a round trip as opposed to EC$5 when going by local bus/maxi taxi. I think we'll stick with the local bus in future....

Saturday saw the arrival of George & Michael on Blue Sky with their new crew member/cabin boy Fede. Good to see them again. We had another BBQ ashore at Roger's. On top of the usual chicken and sausages The Blue Sky gang had caught a Wahoo. There was enough for all of us to have a little taster. Delish. Another excellent night of eating, drinking and making merry!

Luckily there were no hangovers on Sunday. On the downside though, while checking emails in Martin's Marina at lunch time, I realised that I'd lost my debit card. I (Sam) must have left it in the cash machine on Friday in the mall. They have funny cash machines here that dispense your money first before giving you your card back AND without beeping madly at you. I managed to get the card cancelled by emailing my bank and it wasn't used so I can only think that the machine eventually swallowed the card up before anyone got to it! Phew. Won't do that again.

So, today is our last day in Hogg as we're going back to Prickly Bay tomorrow so that we can clear out and then leave for Trinidad on Tuesday night. We'd heard that some other boats are leaving then too and have agreed to sail all together in company in light of some of the news we keep hearing on the cruisers net about piracy. Before heading back we decided to go for a walk around Hogg Island with John and Andy as we'd not done that yet and then have a farewell beer in Roger's. We didn't get far before the heavens opened so we legged it back and ended up with all the other yachties huddled in Roger's Bar, just a bit earlier than planned. After several beers and a glass or two of rum later, we said our farewells and got back to the boat just a little sozzled and a little soggy.



A very wet view of Happy Spirit from behind Imagine's sprayhood!

Well it's Monday now and still raining so we've decided to stay here for another day. We still have time to clear out tomorrow morning for leaving in the evening. We went back to Roger's for beers in the evening to say our farewells yet again. We are definitley going tomorrow morning although I don't think anyone believes us!


---