Haul out & Circumnavigation of Mallorca

Imagine Of Falmouth Online Log
Jon Constantine
Tue 2 Aug 2005 00:00
2nd – 5th August 2005
Imagine was hauled out of the water to get her bottom scrubbed and anti-fouled. We also changed the anodes and polished the topsides by hand. Extremely hot work but we managed to get it done before the end of the week so that we'd be back in the water for the weekend. It's no fun for a girl (not this one anyway) having a night time pee in a bucket !! You are so high off the ground you really don't want to be using the ladder to go to the toilets late at night, in the dark, so the bucket is a necessity! Anyway, enough of that… we finally got back in the water and back onto our berth on the Friday and chilled out for a while. We then went shopping for provisions with the intention of leaving Arenal on the 7th August to do our circumnavigation.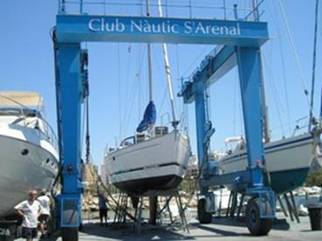 Finished!!!!! Ready for the hoist – always an anxious moment!!!
Gently does it as Imagine returns to the water.
7th August 2005 - At 13.00 we leave Arenal and motor on to Cala Blanca, our first port of call. Slight panic as our GPS isn't working (the laptop & the Garmin). Used the pilot book and charts to find our way to Cala Blanca with no problems. We arrived and anchored at around 15.30. It was very rolly.
8th August 2005 – Left Cala Blanca at 11.45 and headed for Puerto Soller. Still no Garmin but the GPS on the laptop is finally working. The fridge has now gone on the blink!! Seems to only work when the engine is on or when attached to shore power. Had a good sail with 1 reef in the main and full headsail up. Scorching hot day. Saw dolphins and flying fish. We put the engine on approaching Isla De Dragonera as the wind dropped. Now the auto helm has given up – what next?!?!? Jon made a temporary fix so hopefully that should keep us going until we get back to Arenal. Anchored in Puerto Soller at 17.30. Slowly the bay filled up during the evening and we soon found out why. We had the most amazing thunder and lightening storm in the night and there are no other bolt holes for quite a distance. All the boats were swinging in different directions and we had several close shaves with other boats. One unmanned yacht managed to hit our anchor chain with their stern but no damage done. At this point we up-anchored and motored around to find another spot away from as many boats as possible. The storm eased after a couple of hours and we managed to re-anchor and settle down for the night.
9th August 2005 – Motored away from Puerto Soller at 10.30 and motorsailed onto Carbo de Formentor, aiming for Alcudia. We stopped the engine after a while and then put a reef in the main. We managed to sail goose-winged and then motored the last bit into Alcudia arriving at 17.45, where we had a swinging mooring organised for us by Jon's pal Peter Mac. We spent a fab 3 days here and were thoroughly looked after by our host.
The infamous Peter Mac, the perfect host! Peter's boat, a Rush 10 Don't we need a ship's cat, purrrlease ?!?!?!?!?
Friends of Peter's who joined us for the BBQ party! Jon & Peter enjoying their Rosado
The best Sardines ever!!!
12th August 2005 – We said our thank-yous and goodbyes before heading off in the direction of Cala Ratjada at around 12.30 feeling partied-out but very happy. The Garmin has finally started to work – Yippee! BUT the fuel gauge has now stopped working and the fridge is still playing up even though we had it looked at and re-gassed in Alcudia!!! At least we had a good sail in light winds. Anchored at 16.45 but had to move when a bunch of very loud Germans on a cruise boat 'parked' up next to us.
13th August 2005 – Headed off to Porto Petro late morning while fixing the outhall along the way! Had a good sail again in light winds and dropped anchor at around 16.30. Went ashore by dinghy and had a lovely meal on the front.
14th August 2005 – We had a great sail back to Arenal leaving Porto Petro around 11.00. It was a very hot day and we had to put the boom tent up for protection from the sun. The auto helm broke again so we hand steered all the way. Got into Arenal at 19.00 and moored up. Pretty tired but very contented with our achievement in circumnavigating the island.
15th August 2005 – Cleaned and tidied Imagine ready to leave her the following day. Had our final meal out in Arenal in Sirenas, just outside the Marina. Fabulous food.
16th August 2005 – Flight back to the UK L We'll be back J
---