Guadeloupe to Iles des Saintes

Imagine Of Falmouth Online Log
Jon Constantine
Wed 21 May 2008 13:31
Weds 21st to Weds 28th May 2008
Time to move on again as nothing interesting to keep us at this anchorage! It's a very a humid and overcast day with flukey winds gusting up to 26 knots. The wind soon settled and after a small squall cleared the air, the sun came out, and we were off again, albeit another beat to windward. After 4hours of sailing we arrived in Bourg de Saintes which is on the island of Terre-de-Haut in the Ilse des Saintes. A really beautiful anchorage and picturesque seaside village.
The approach – no motoring for us, we were sailing!! Nearly there…..
We went ashore during the day to provision and explore and then went back again in the evening for dinner. A big treat as we don't eat out very often. Pizzas – yummy! Yeah, I know, we should have gone for the French cuisine but the craving for Pizza was just too much!
Look left - no, your eyes are not playing tricks….. ….it really is a boat 'in' the hillside!
Anse du Bourg A local town house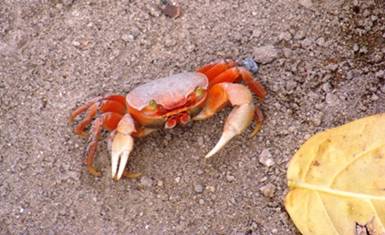 Lots of these little fellas by the side of the road What can I say?!?!?!
The next day we motored around the corner to Pain du Sucre anchorage for a few days. Idyllic. Only a couple of boats anchored here and the charter boats leave at the end of the day so really peaceful in the evenings. One lunchtime a guy from one of the charter catarmarans dinghied over to us and offered us some lobster left over from their lunch. How could we say no?!?!? Two biggies, already cooked and cut in half. Well that's dinner sorted giving the chef a well earned night off from labouring over a hot stove!!
Anchorage at Pain du Sucre I think maybe the catching and cooking was the easy bit!!
Some great snorkelling too.
Christmas Tree Fan Worms on a Brain Coral A Puddingwife – yes, that is really it's name!
Squid
After a great few days we went back to Bourg de Saintes. Not long after anchoring we had a visit from a guy on one of the neighbouring yachts, a Jeanneau Sun Odyssey 49 called Blue Sky, inviting us for sundowners. We had a great evening with the guys on board, George & Michael, and got some good tips on places to visit. They've been cruisng in the Caribbean for a few years and know the islands pretty well. A couple of days later we reciprocated and also invited over a couple who we'd met in the customs office, Tim and Linda on Matsu plus friends of George & Michael, John & Andy on Happy Spirit. A great night and much alcohol was consumed. Needless to say we were a little worse for wear the next day.
Luckily we'd got water BEFORE the 'party' as we really needed a clear head to do this. Or maybe not! Now here's a story! There's a buoy about 100 yards from the shore with a hosepipe attached to it. You basically moor up to the bouy and then use the hose to fill your water tanks. Seemed easy enough and we'd seen other yachts do it. Having tied up stern too (our first mistake apparently although we'd seen others do it that way) we located the hose and radioed Jerome (the French waterman/bar owner) to turn the water on. We waited and waited and waited…. Nothing. After much discussion on the radio and to-ing and fro-ing ashore by dinghy (the air turning very blue in Enlish and French), we were informed that because we had moored stern to, we had somehow disconnected the hose on the seabed and had to fix it.Great! It wasn't possible to do this snorkelling in 4 metres of water but we finally managed to borrow a dive tank from Jerome and I went down with a screwdriver to reconnect the hose. That done we finally filled up our water tanks. A 30 minute job that ended up taking a very stressful 2 hours!! I still think that the hose was broken beforehand as there was so much slack in the hose that there was no way we could have pulled it apart. Hey ho. C'est la vie!
So, time to leave 'France' and move on to the next island – Dominica. The 10th country on our trip this year although we've lost count of the number of islands we've visited so far…….
Imagine in the anchorage at dusk Leaving the Saints
---