Salt Whistle Bay & Saline Bay on Mayreau

Imagine Of Falmouth Online Log
Jon Constantine
Wed 1 Jul 2009 10:45
Weds 1st July 09 to Fri 3rd July 09

We had a major storm last night. Thunder, lightening and plenty of rain. Well, we need the rain to top up our water tanks but we could do without the lightening thank you very much! We woke up to a very grey, blustery day so we've decided to move on. We've spent a lovely 2 days here but we don't want to pay another 20 EC (£5) for the night if the weather keeps us boat bound all day. I think we were lucky getting 2 good days in so it's off to Salt Whistle Bay in Mayreau now. We didn't stop there last year so this'll be another new experience for us. It's less than 3 miles away so we set off under headsail only and anchored in the bay about half an hour later. It's a very small bay but obviously popular. We weren't there long before there was an invasion of catamarans, charter boats and sports-fishing boats. We watched a couple on a Sunsail Charter boat anchor so many times that we lost count! And we thought we were bad! It was all a little cosy really. Just hope that no one drags their anchor in the night!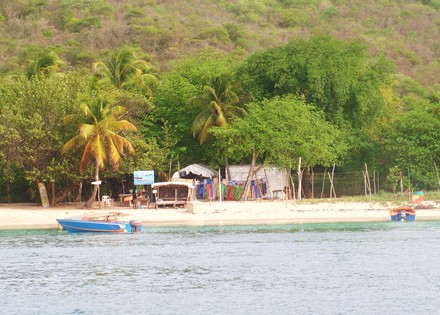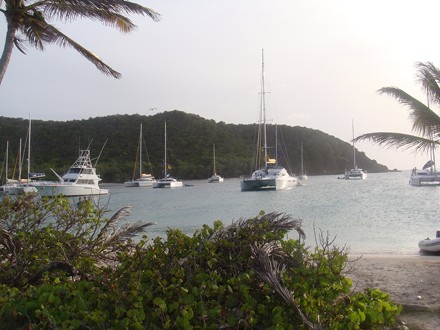 A beach shop at Saltwhistle Bay The anchorage

We went ashore late afternoon for a stroll along the beach in search of a bar for a sundowner. None of the little shacks looked vaguely bar-like so we went back to the boat and made our own, followed by BBQ Tuna for dinner. The wind picked up in the night and we had a sprinkling of rain. Nothing major but it's a bit rolly.



These birds were sweet but others weren't. They attacked me. Think I was a bit close to their nest!



Mum & Pup - they were very friendly Lowest point of Salt Whistle Bay. A very short walk to the windward side

The next morning we watched the hordes leave and decided to do the same a little later. Saline Bay is just around the corner less than 2 miles away so we motored over there to check it out. It's a much bigger bay but there were only 2 other yachts anchored there. I wonder where the hordes went! It's a bit windier here but less swell so very little roll. We don't mind the wind as it keeps the KISS going but we do hate too much rolling. We went ashore late afternoon to check out the small town and to get rid of our rubbish. A local guy kindly pointed us in the direction of the 'rubbish bins'. That was a shock! After a long walk along the back of the beach we came to a huge rubbish pit. It's was disgusting. And there I was expecting bins as we'd seen on previous islands. I never really thought about where the rubbish went. I know in the BVI they have a massive incinerator but there's nothing like that on the smaller less developed islands. It was horrible but I guess the rubbish has to go somewhere and all the small islands have to use these landfills. We are very careful with the amount of rubbish we make, throwing vegetable matter overboard (only at night though in anchorages) and avoiding plastic bags/packaging but we always end up with bottles and tins. What can you do? There doesn't seem to be recycling facilities anywhere in the islands apart from the French ones.



View of the town in Saline Bay The landfill - a right mess!

We retraced our steps and then hiked up the very steep hill to the town and continued right to the very top of the island. Wow! it was so hot but worth the effort. The view of the Tobago Cays from here is breathtaking.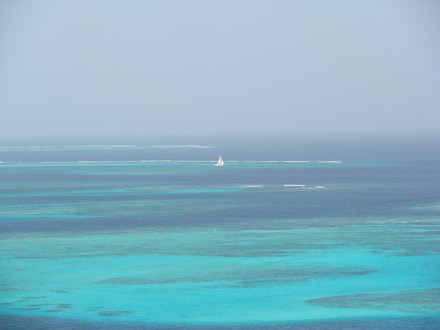 They Cays and the shoals outside of Horseshoe Reef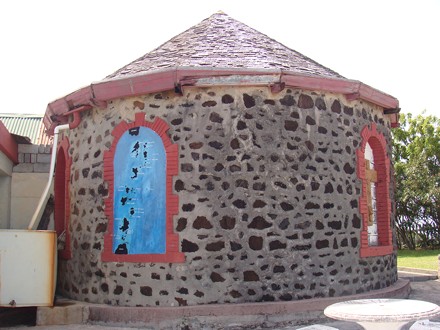 The little church at the top of the hill - this was our view point



The kids going home after church! Looking down at Saltwhistle Bay from the top of the hill in Saline Bay

We slowly made our way back down the hill desperately in search of a cold beer. This was provided by Robert in the 'Robert Righteous & de Youths International Restaurant & Bar'! Catchy name, eh! A great guy to chat too and a fabulous establishment! Partly refreshed, we headed back to the boat as nothing can really cool you down like a swim off the boat!




The next day we were going to head onto Union Island but bad weather set in late morning. More thunder & lightening and plenty of rain. We stayed put and had ourselves a 'duvet day'! We're in no rush. We'll go to Union tomorrow, weather permitting........



Our very hi-tec water collecting devices!



View through the sprayhood window



---