Grenada to Trinidad (Chaguaramas)

Imagine Of Falmouth Online Log
Jon Constantine
Tue 22 Jul 2008 13:15
Mon 21st to Tues 22nd July 2008 - Trip total 82nm

At last, Monday is here and our day of departure is upon us. We've checked the forecast and all bodes well for leaving at around 8pm tonight. At last. We've been going stir crazy waiting. We caught a bus into Grand Anse to do some shopping and get some more money out of the cash point and grabbed a quick lunch at the Boulangerie before heading back to the boat (with a slight detour as the driver took us to the wrong side of the bay - doh!). We cleared out for a second time and then had a quick swim to cool down. The rain has finally stopped. After an early dinner we readied ourselves to leave.

The boats we are sailing in company with are Kajun Diva (Willena & Doug), Tranquility (Lee & Cindy) and Asseance (Don & Heather).

Plenty of light in the bay when we hauled anchor but still had to be very careful. It's amazing how many boats don't carry any lights at night! Once we were clear of all boats we put the mainsail up with one reef in and then headed out to sea. Not much wind to start with but expecting more so put the headsail out with one reef too. We actually couldn't have asked for a more perfect night for a sail. The skies were totally clear with plenty of stars and an almost full moon. The winds were generally blowing between 12 and 16 knots with no more than 18 knot gusts, no rain squalls and only a slight sea swell. We didn't bother with fixed watches and just took turns taking an hour or so whenever we felt tired. It works well for us on one nighters. We put the engine for about an hour at 3am Tuesday morning to top up the batteries and later at 7am when the wind all but disappeared forcing us to motorsail for a while. In fact, we had to use the engine on and off for the rest of the trip due to lack of wind.



Dawn

We put the fishing rod out at first light but didn't even get a nibble. Spotted the gas rig 'Hibiscus' at about 6am and another one opposite although we're not sure what that one is called. We sailed between the two. At around 8am we were joined by dolphins on our bow wave; one large one and three smaller ones. They didn't hang around for long though. Didn't even get the camera out in time. Soon after that we spotted Tranquility behind us but it didn't take them too long to overhaul us!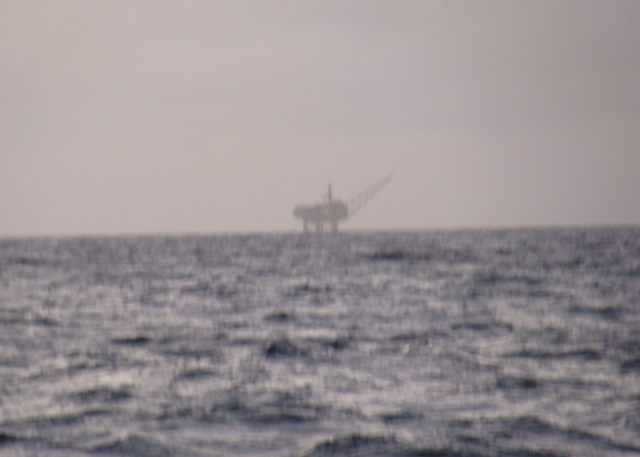 The two gas rigs

By 12 noon we had the engine on and were motor sailing through the Bocademonas channel that runs between Trinidad and Monas Island, around the point and into Chaguaramas Bay. Very strong currents here. We quickly dropped the sails once through and headed into the bay where we tied up to the customs dock at Cruise Inn, behind Kajun Diva.


s/y Tranquility Bocademonas Channel

Customs and immigration are a bit of a nightmare. You have to check in immediately or else you are liable to get a fine especially if you arrive say at lunchtime but wait to avoid the overtime hours! Their hours are 8am until 6pm but you have to pay overtime between 12 noon and 1pm and also after 4pm. All crew have to go to Immigration first to fill in loads of forms and then onto Customs to fill in more forms and pay out all the fees, harbour dues, overtime etc... It's not very expensive but just so time consuming. You have to be very patient and just keep smiling through the whole process. Bureaucracy gone mad but we only have ourselves to blame. I think it was the English who originally introduced them to Rubber Stamping!!! So, with all that done we did a quick shop and then motored around the corner to Carenage Bay (TTSA - Trinidad & Tobago Sailing Association, is based here) where Kajun Diva and Asseance are anchored. Tranquility have a berth in Cruise Inn. It's quite a small bay and very tranquil but we don't like the look of the water much. A very dark greeny/brown colour. Apparently the colour is caused by the outflow from the Orinoco River. Once anchored we had a very late lunch and then a quick dip to cool off (in spite of the water colour) as it was so hot. We were both pretty tired so a little later, after our GnTs at sundown, we had a small supper of cheese and biscuits before hitting the sack at around 9pm.




---