Marigot Bay, Anguilla, St Barts - 19th April to 10th May 2008

Imagine Of Falmouth Online Log
Jon Constantine
Sat 10 May 2008 00:00
Marigot Bay, Anguilla, St Barts
Once Diane and Jim had left us we decided to stay in Marigot Bay but we made a number of visits across the lagoon to Sint Maarten in the dinghy. Two Dutch friends - Maikel and Cynthia, who we had met in Lanzarote with the Blue Water Rally had left their yacht Bly, in Simpson Bay Marina to have some work done while they went off to explore Chile. When they arrived back in Sint Maarten we caught up with them. We much enjoyed their company and the meals/cocktail evenings we had with them – especially Cynthia's birthday!!! They were so taken with Chile that they have decided to buy a ranch there and to ship their boat back to Europe and sell her. We hope to catch up with them again one day - even if it means a visit to Chile!
Jim & Diane – fully recovered after our beat to windward!!!!          Cynthia (Happy Birthday!!!), Maikel, Jon & Sam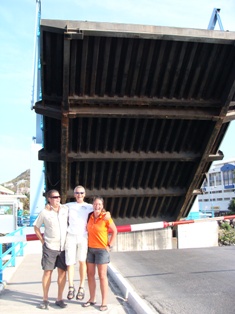 Another Heineken please!! The bridge (& Jon) getting a lift!!!

Our last weekend (3rd May) in St Martin was spent in the bay of Grand Case - just 6 miles round the corner from Marigot Bay. A smaller and more peaceful anchorage than Marigot except that the French airport is literally behind the houses on the water front and the incoming planes seemed to almost touch the roofs as they came in to land over the bay. Fortunately, the airport is too small for commercial jets and it is only the local flights that use the runway. We had a lovely Tapas meal ashore in the Calmos Café, a great beach front bar and restaurant.
Incoming!!! Calmos Cafe

On Tuesday (6th May) we returned to Marigot Bay and went into the marina to fill up with water and prepare for the next leg of our trip. We had decided to hop across to Anguilla which we could see in the distance and had decided to visit before going on to St Barts.

Wednesday (7th May). Departed Marigot at 10.15 and arrived in Road Bay, Anguilla at 13.10. We had read conflicting reports in our 2 pilot books that we may get charged for a "cruising permit" to visit anywhere other than the main bay and harbour. We went into customs and immigration to check in and sure enough, there was a large notice on the wall informing us that to visit any other bay but Road Bay, there would be a fee of $100 PER DAY! We therefore decided to stay just a couple of days and then head on down to St Barts. What we did see of Anguilla was probably not really representative of the rest of the island but we were quite happy to leave when we did as it didn't seem to offer anything that we couldn't find elsewhere. The only highlight being that the Anguilla Regatta was taking place and 2 ex Americas Cup yachts - Dennis Connors "Stars and Stripes" and another were taking part. We got a good view of them as they limbered up for the start of the race.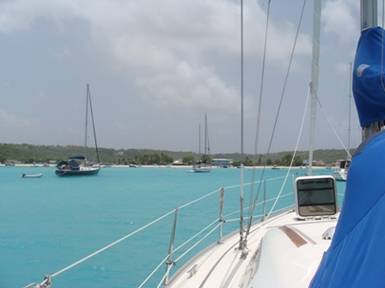 Anchored at Road Bay, Anguilla Americas Cup yacht - Stars & Stripes

Saturday (10th May). Anguilla to St Barts. We had intended to check out at 9am and be away as soon as possible. Unfortunately the customs office had closed when Jon got there and by 10 am, it looked like we were going to have to stay another day in Anguilla. Fortunately, the customs officer returned just as Jon was about to give up and dinghy back to the boat. We finally got away at 10.30 with the wind behind us and just the genoa up for the leg down Anguilla but we knew that once we turned the corner and headed towards St Barts, we would probably be hard on the wind. At mid-day, we rounded the corner and put the main up. Sure enough, it was going to be a beat but at least we would probably only need a couple of tacks.

As we approached St Barts, we noticed a pretty looking anchorage on the small island of Ile Forchue about 6 miles from St Barts. As it was now late in the afternoon, we decided to drop anchor in the bay and carry on to St Barts the next morning. It was a bit rolly, but we're getting used to that now!!!!
Anchorage at Ile Forchue.
---