Back in Antigua for Happy Hours, Green Island & the Cricket

Imagine Of Falmouth Online Log
Jon Constantine
Fri 30 Jan 2009 18:00
Fri 30th Jan 09 to Weds 18th Feb 09

Well, it's back to 'normal' life again aboard the good ship Imagine! While I was at the airport Jon got a call on the VHF. The Blue Sky Boys are back in town and it's George's birthday. So, off to the Mad Mongoose for celebratory happy hour beers followed by Pizza at Le Cap Horn and then back to the Mongoose for more beers and the live band.



Alex, Jon, Michael and the Birthday boy

A few days later we were back in the Mad Mongoose for more happy hour beers but sadly to say goodbye to young Alex, Blue Sky's cabin boy! He's off back to Canada after several months' cruising with George & Michael. He will be sadly missed. A great guy. What a night that was. We later ate at Trappas and poor 'ole Alex got accosted by some drunk bird on the next table who was celebrating her coming wedding. Husband-to-be was there but it didn't stop her from grabbing a snog from him and then his T-shirt!! Poor lad. It wasn't warm that night either. The Trappas staff kindly gave him one of their polo shirts that were for sale, no charge!

Later that week we arranged to meet Blue Sky again but this time at Green Island just a few miles away on the East coast of Antigua, well protected by the reef. We actually motored all the way as the wind was bang on the nose and the sea really lumpy. We dropped our anchor in calm waters in West Bay next to Blue Sky and spent 4 fab days there.



Arriving at the anchorage in West Bay, Green Island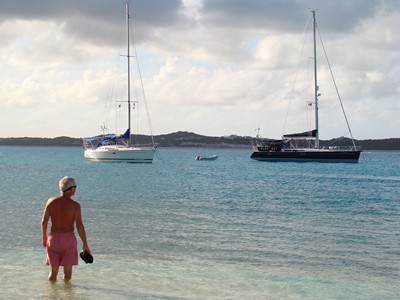 Imagine & Blue Sky Sunday lunch ashore

It's back to English Harbour (with hangovers) having said our farewells to Blue Sky again as it's time for the 5 day Test Match. We're not big fans of cricket really but we figured we'd go for one day as you can't be in the West Indies and not see them play, especially as it was against England. Embarrassingly, the first day was abandoned after only 10 balls due to the pitch being unplayable at the new Sir Vivian Richards ground. The game recommenced the next day at the old Recreation Ground in town and all first day tickets were honoured. By all accounts the locals prefer this ground anyway! We had a good day and England did well too. I think the overall match after 5 days ended in a draw though.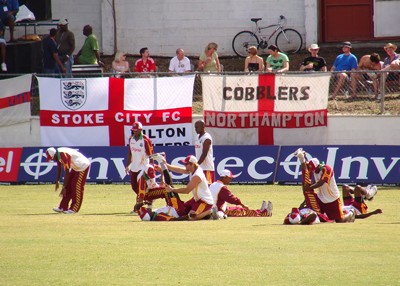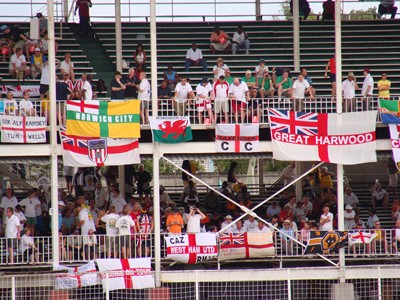 The Windies warming up The fans



Game on



Wendy & Peter More fans



The scoreboard just after lunch







---