Martinique to St Lucia (Rodney Bay, Marigot Bay & Soufriere)

Imagine Of Falmouth Online Log
Jon Constantine
Sat 14 Jun 2008 12:46
Sat 7th June 2008 to Sat 14th June 2008

It's time to move on again so after a quick provisioning trip ashore we hauled a very muddy anchor at around 11am and set off for our next destination, Rodney Bay in St Lucia, only 25nms away. The forecast was for strong-ish winds and squalls so we had one reef in both the main and headsail most of the way. Better safe than sorry. We still had a romping sail with the wind just forward of the beam plus big atlantic rollers to make life just a bit more interesting! By the time we approached and rounded Pigeon Island we had very flukey winds either gusting 30 knots or down to nothing but by about 3.30pm we were safely anchored on a sandy bottom in a large, near empty bay in about 6 metres of water - fabulous. The GnTs went down very well that evening.



Squally approach to Rodney Bay A very empty Rodney Bay

Sunday was very relaxing and possibly our laziest day so far!!! We can pick up free wifi so caught up on a few emails, had a snorkel to check the anchor was well bedded in and gave the waterline a quick scrub off but that was it really. Had a visit from 'The Fruit Man' but already stocked up so didn't buy anything. Interesting vessel....



'The Fruit Man'

Had a visit from the laundry man today (Monday), and not before time. It's amazing how it builds up. Promised to get it back to us by the next day. Hmmm! Went ashore and checked in with immigration. Lots of construction going on around the waterfront. We had lunch and a bottle or 2 of the local brew, Piton Beer, at Scuttlebucks which was pretty good, before heading off to explore. Dinghied into the lagoon and found a chandlery and a good supermarket in the town so stocked up on a few bits and pieces. Lots of bars and restaurants here.

Today,Tuesday, we spent all morning on the internet (gotta make the most of it when it's available) and then Jon fixed the fuel gauge. Been broken for a while so it was good to get that sorted. Having heard the forecast for strong winds at the weekend we've decided to move to a more sheltered bay tomorrow. The pilot books suggest that Marigot Bay, just 9nm down the coast, is very sheltered and have decided tocheck it out. Took another trip ashore to stock up in the supermarket and also to send a fax to Peakes Yacht Services in Trinidad confirming our haul-out date - 2nd Aug. It's been a good day for getting things done. The laundry hasn't turned up yet. Fingers crossed for tomorrow!!

Up early Wednesday and started readying ourselves for our short hop to Marigot Bay. Jon quickly went onto the internet for a last check of his emails before leaving. Not sure when we'll get access again for a while. Good job he did. He had an email from the chandlery saying that we'd left our boatpapers AND passports in there when we were there on Monday! (you have to show them to get duty free prices for a 'Yacht in Transit') S**t! We hadn't even missed them. My fault - what a nightmare. We could have sailed away and not realised until we checked out again way down the island. Just doesn't bear thinking about.... Jon nipped ashore and picked them up and I readied the boat for the trip feeling suitably bad. At least the laundry turned up. So once Jon got back we finally hauled anchor at around noon and thankfully, had a lovely downwind sail in 17 knots of wind. So much for the early start though!

The entrance to Marigot Bay was very well camouflaged and we didn't spot it until we were right on top of it (even though we had it marked on the chartplotter). Luckily we saw a boat coming out which helped. We motored up the buoyed channel and tried to anchor in the lagoon at the top but the holding was very bad. We headed back to near the entrance and picked up a mooring ball kindly assisted by one of the local boat boys, a lovely chap called Nelson. Cost us 90EC$, a cigarette and a glass of Guava juice for 2 days mooring. Seemed reasonable. He also made us a cockpit lampshade for a small fee and later we were sold a couple of red snapper from some local fishermen. Finally we were visited by a guy paddling on a surfboard loaded with mangos which he gave to us for 2 batteries and a cigar!! We've really done our bit for the local economy today me thinks! The fish were delicious but we cancelled a trip ashore due to rain.



Imagine on the mooring buoy Marigot Bay Marina and the Lagoon

It's now Thursday and we were a little late getting up this morning due to being kept awake 'til past 3am by loud music from a big party ashore. Hey ho. Can't be perfect in paradise all of the time. Managed to get wifi so that we could check the weather forecast. Strong winds and lots of rain still forecast for the weekend so we're going to stay put. It's a very lovely anchorage so we're not too worried.I It's so sheltered too, we barely get any breeze which in a way is bad as it's very hot especially when the hatches have to be closed due to the rain. Do I sound like I'm moaning? I'm not, honest! We later went ashore and had a fab lunch at JJs, a little restaurant up in the lagoon and then went to have a look around the Marina. We got back to the boat just before the heavens opened. During one of the breaks in the rain I decided to clean the cockpit with seawater and Jon started sanding down some of the woodwork on the deck. The boat could then get a good rinsing with fresh water during the next downpour. So, I'm merrily collecting saltwater in a bucket off the stern when suddenly, bang and splash, I'm in the water. How it happened I've no idea. Left a bit shaken, with a bruised wrist and a red face but apart from that, all ok. Just goes to show how easy it is. Jon didn't even hear me go! Almost evens up the score. He still has one more dunking than me.... Thankfully the rest of the day was pretty uneventful apart from watching a dog swim from one side of the bay to the other. Oh our life is so exciting. Lots more rain during the evening and through the night with a thunder and lightening storm passing close by. Another bad night's sleep this time due to the heat with having to keep the hatches closed plus we were fighting off attacks from a couple of very persistant mozzies!!!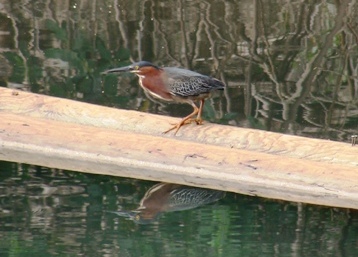 Local wild life - a heron we think. More wild life, not so local - a cattlemaran we know!

Having checked the weather forecast again this morning (Friday) it seems that we have a few days of good weather ahead of us so we've decided to make one more stop in St Lucia (Soufriere) before we check out and head on to either St Vincent or Bequia. We are still in two minds about stopping in St Vincent after hearing about it's reputation for attacks on boaties plus the attack we heard about on a couple of charter tourists (a journalist for the Telegraph and his wife on a charter boat) in Chateaubelair over Christmas. More importantly we have a major problem with the heads this morning. We appear to have a blockage. Not looking forward to this chore. It has happened once before and it's not a pleasant task. Over to Jon.... Well it wasn't so bad but it took us most of the day to clear the blockage. Basically we had a limescale clogged pipe and it took a lot of hammering, banging and rinsing to break it up but we succeeded eventually. We've decided therefore to spend one more night here. Strong winds and pouring rain has helped us come to that decision too! During a break in the rain we decided to treat ourselves to a well earned cocktail in the Mygo Bar to watch the sunset. Got there in time for the 2 for 1 Happy Hour - Sweet! Dinner back on the boat was a bit of a drunken affair after polishing off a bottle of red too so, needless to say, we finally had good nights sleep!



Square Rigger leaving Marigot Bay Sunset from the Mygo Bar

Saturday morning and we're soon ready to leave after breakfast and several cups of strong coffee. We had a lovely beam reach sail to Soufriere with only the headsail up. We made good time arriving at 12.45, and had the most amazing views of the famous Pitons as we arrived. We were met by a boatboy called Javid before we even got into the bay and he pointed us to the mooring that we should take as it was apparently too deep to anchor, and we were then helped along by another called Sylvester for the usual small fee. Once settled, we took the dinghy ashore in order to check out. A chap called Johnson was at the dinghy dock and promised us that he'd keep an eye on our boat for us, presumably for another small fee! Once we'd found immigration and got the necessary paperwork done we found a supermarket and got a few essentials and also spied a bakery down a dark ally! Bit nervous about going down there initially but we were rewarded for our bravery with 2 'fresh out of the oven' loaves for only EC$2.50 - that's about 50pence. Nice. Back to the dinghy now and sure enough it was still there under the watchful eye of Johnson. Once the fee was paid we headed back to the boat. When we got aboard we spotted a freed up mooring on the other side of the bay and decided to move. We felt we were a bit close to civilisation here and especially on a Saturday night. Once we picked up the new mooring buoy we went for a swim/snorkel. Fabulous. Loads of fish. It was quite rolly in the night and very hot but it was quiet. We had a bad nights sleep again though due to more mozzie attacks.



The Pitons The paddling pig....

We have made the decision to go to St Vincent tomorrow for a night before heading to Bequia......












---