Isle Des Saintes to Dominica (Portsmouth)

Imagine Of Falmouth Online Log
Jon Constantine
Sun 1 Jun 2008 14:46
Thurs 29th May to Mon 2nd June
We have spent a full week now in the Saintes and although they are beautiful, we are conscious of the need to keep moving south (hurricane season officially starts on the 1st June) so at 09.40 we raise the anchor and head out of the bay and then south between the two main islands of Terre De Haut and Terre De Bas. As we leave a rain squall passes over to give us a quick shower and remind us that we are going back to open sea. As we pass the small islands of La Coche and Grand Ilet, we can feel the roll of the Atlantic swell as we set our course for Portsmouth Bay in Dominica. The wind settles in at about 20-25 kts and we know we should make good time covering the 22 miles.
Dominica is the first island we will visit that has "boat boys" and we have heard good and bad stories about them. Boat boys are not really boys but mainly adults whose main occupation is to service yachts with fruit, vegetables, bread, ice and anything else that can help them earn a few dollars. Some of them own mooring buoys and will try to get yachts to take one of their buoys rather than drop anchor. Most are reliable and friendly in their dealings with yachtsmen but some can be over persistent in their sales technique and it is wise to know how to deal with them correctly. It is normal practice for a yacht to "adopt" one main boat boy who will then look after your needs whilst in his area. There is strong competition between the boat boys and some will come out some miles from shore to make first contact with an approaching yacht. Sure enough, whilst still some miles off, we could see a boat speeding towards us. Their boats are normally brightly coloured like a fair ground ride; blue, yellow green and orange seeming to be the most popular colours. Within minutes the first one was alongside and told us his name was "Lawrence of Arabia" and had obviously adopted us, not the other way around. He sped along beside us welcoming us to Dominica and informing us of all the different services he could provide including tours of the island, taxi rides etc. Within minutes, he accelerated away back to the bay and from then on we simply told the others we were with Lawrence and they left us alone.
We knew that Dominica was quite a poor island independent from any European country and that we would find it quite different from any of the other islands we had so far visited and so it turned out to be! We dropped anchor at 14.00 and after a quick beer took the dinghy across the bay to find customs and immigration. We tied up to a rather decrepit looking pier and walked up the partly paved road passing discarded vehicles and machinery and some ramshackle sheds until we found the immigration office round the back of one of them. The usual paperwork dispensed with, we decided to take a short walk along the bay to have a closer look at the town. Some of the houses were extremely basic consisting of little more than single storey one or two roomed wooden dwellings that looked as if they would blow away at the first sign of a hurricane, but yet they appeared to have been there some years and many were still "works in progress". The people we met seemed friendly and happy and one old lady asked us to come and visit her sometime soon. We stopped for a cold drink (a pineapple and some cheap Heinz Baked Beans!!) at a little local store and made our way back to the dinghy and across the bay back to "Imagine"; passing a number of derelict steamers that had been washed ashore by previous hurricanes and storms.
Dingy ride to customs & immigration One of the many shipwrecks on the coast
Lawrence came by in his fairground speedboat and we arranged to do the "Indian River Tour" next day along with another couple on a boat anchored nearby. Our new pals on Blue Sky had told us that a visit up the local river was not to be missed and we were looking forward to it. A couple more boat boys visited us but were obviously of a lower order than Lawrence of Arabia, one of them bringing a Dominican courtesy flag that we had mentioned to Lawrence that we didn't have. News spreads fast amongst the boat boys and he managed to extract the equivalent of 10 euros and a beer out of us before disappearing back to the shore no doubt to spend his new found wealth on beer or a few smokes. Another boat boy on a surfboard with a piece of wood for an oar had already sold us some avocados and mangoes. We now thought we were getting the hang of boat boys and how to deal with them. Little did we know!
The next morning, a new boat boy arrived to take us on the Indian River tour. We had expected Lawrence but apparently he had "other business" to attend to and "Bogart" (real name Reginald) was to be our guide for the trip. We then collected the other couple – Bert & Jo, who were joining us on the tour. They had left England about 5 years ago and now live in Barbados and had sailed to Dominica in their boat called Gypsy for a holiday.
No engine driven boats are permitted on the river and after purchasing our "site tickets" from the petrol station, we embarked onto a wooden rowing boat and Bogart started pointing out various things as we gently floated up the river. All very serene and somehow reminiscent of a day trip on a punt in England. The river was quite brackish and slow flowing and was full of brown mullet. Along the river bank, hundreds of crabs waved their claws at us but disappeared down their holes if we got too close. The trees hung across the river and we could hear many different birds calling out to each other as we made our way upstream. After about half an hour or so, we arrived at a small landing dock and disembarked and walked to a clearing where a bar had been set up. It was only about 11am but never the less, Bogart suggested we try the local rum punch called "Dynamite" and after two, we realised why! After an hour or so it was time to return and on the way back, Bogart showed us a hidden part of the river where a scene from "Pirates of The Caribbean" had been filmed. As we made our way back to where we had started from, Bogart suggested that we might like to have a BBQ the next day which he would organise. It seemed like a good idea although we thought the price was a bit high at 50EC$ each but he assured it would be good with fresh fish and chicken and unlimited rum punch so we agreed. We also wanted to take a full day tour of the island to see some of the rain forest and waterfalls and Bogart told us that Lawrence also ran a mini bus and would organise it for us.
The Indian river Bogart
That evening we went ashore to 'Papas Restaurant & Bar' with Bert & Jo, as there were live bands playing. Good music and far too many rum punches later we returned to the boat at about midnight. We could still hear the music at about 3am. I think the music must have finally stopped playing when the sun came up.
The next day (Sat 31st May) we took the island tour driven by Stanley; Lawrence was nowhere to be seen and obviously had further business but Bogart was there and asked to 'borrow' some money so he could purchase the food and drink for the BBQ. Alarm bells should have started ringing!!
The trip was a great success and Stanley was an excellent guide and driver and seemed to have an answer for all the many questions he was asked. We visited the rugged northern end of the island, the Carib Reservation where we had lunch and finally we visited the Emerald Pool and waterfalls in another of the National Parks. Returned to Portsmouth about 6pm.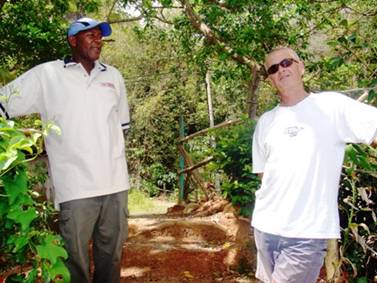 Stanley, our driver and guide Jo & Bert checking out the view
Sam taking a rest in the Carib Reserve Jon posing by the small waterfall in the Carib Reserve
The Emerald Pool and waterfall – stunning!
Are you looking at me? The rainforest
Unfortunately, Bogart let us down badly on the BBQ and it was a complete disaster. He told us he had not been able to get any fish and the chicken had been cooked on a sandy grill and was gritty. The rum punch was in short supply and what there was tasted more like fruit punch. We were very disappointed and told him so in no uncertain terms. Luckily, after much discussion we did manage to get the 'loan' back! A rather unpleasant end to a lovely day and we returned to "Imagine" with the distinct feeling that he had taken us not only on a tour but also for a ride!
The next day, we left Portsmouth for Roseau about 19 miles down the coast. We were met on arrival by more boat boys but by now we had become quite cautious of them. We took a mooring buoy from "Pancho", as the anchorage was very deep, but declined any other services he offered us. The area we could see ashore didn't look very inviting and we stayed on the boat. We have since heard of yachts being robbed in this area so we are glad we decided not to go ashore. We shall leave first thing tomorrow morning.
Dominica was an interesting experience and we are learning fast!
Next stop Martinique – back to 'France' we go.
---