Huatulco-Honey Im home

Coolrunnins
Tue 17 Aug 2010 13:21
15:45.844N 096:07.308W
VERY thankful to leave the washing machine bay of Puerto Angel, as picturesque as it was. Although sheltered, we had three days of massive swells and pounding surf on the huge rocks on three sides, surrounded by pangas and mooring lines in the water. In other words plenty to go wrong. Sleepless nights on anchor watch were wearing a bit thin and wind shifted constantly moving the Cat to all four corners of the very small cove.
Anyhow, weather was good as we set of a 9am. Motor sailed with Dolphins and huge mating turtles next to the yacht literally every 20 minutes or so. Scenery really beautiful, with mountains and green jungle down to deserted long surf beaches. We landed a big tuna, which bust the fishing rod (more through sun fatigue than the size of the fish, but a blow to lose our venerable rod)
We "lunched" on fresh tuna steaks on the BBQ in a truly gorgeous bay at anchor called La India, with beach and island in about 45ft, and jumped off for a swim, before continuing down to the marina.
Entered at 5pm, and tied up. Due to swell (recurring Pacific issue), we moved further into the marina and found a great "movement free" mooring. The marina is pretty much as expected, very simple, but very "homey" and not at all expensive. Friendly folks from Canada on a nearby yacht welcomed us with guide books and maps and lots of advice on the area, plus a dog that the kids enjoyed playing with. They arrived 2 years ago and havent left!
The Pemex diesel dock is of course not functioning and the diesel has to be ferried by taxi in jerry jugs from town, but thats normal :)
Their friends gave us a lift the village around 8pm. I expected a one street, one taco stand, one rabid dog kind of place. What we got was a picture prefect Mexican town, complete with Church, Plaza, Park, Bandstand and Oompha band playing. There are great restauraunts, coffee bars, ice cream parlours, bakeries, and shops, all lit up and the whole place had a great atmosphere. Friendly locals, great prices, and taxis that refuse tips and charge 20 pesos!
We got wood fired oven Pizza at a really cool upstairs place overlooking the plaza and had a fine night.
Back onboard, the boat was tied calmly, the Air Con was working, so the clean sheets were icy cold, and we all crawled into bed for the first good nights sleep in over a week.
Its now 10am, tea in hand, and its been raining cats and dogs most of the night. We have decided we wont be too much hurry to leave, as this town, and the surrounding national park area (so far) seem to be a superb place to hang out for a while. There are coffee plantations and waterfalls in the mountains and 32 beaches of which only 2 are accesible by road.
Very pleasantly surprised by Huatulco so far and the best nights sleep ever!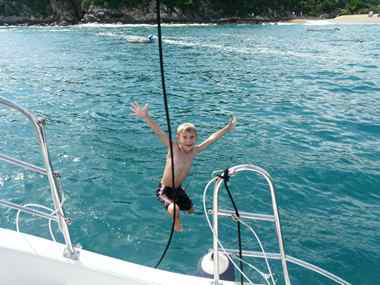 ---