surf dudes.

Coolrunnins
Tue 13 Jul 2010 04:54
Hello everybody today i went to sayulita wich
is a nice surfing place and i learned how to surf but not just
normal surfing but standing up surfing and now i know
how to surf standing up.
I love you all and my brother too.
from:jason
To Add:
Tropical depression heading up from the South, holding tight in port until its clearer where its headed and bad weather will be hitting somewhere along the "gold coast" later this week with 30 knot plus winds at best, (plus dinghy outboard undergoing surgery for a bad pump). Going Nowhere till later in the week. However, cant think of anywhere better to hang out. Great village, nice people, beautiful surroundings, and the boys are now surfing mad!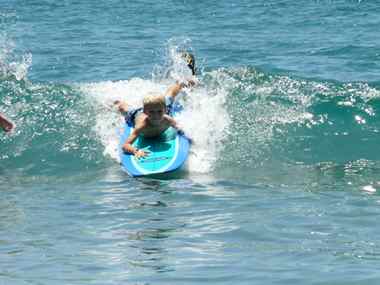 ---