Honduras, Gulf of Fonseca

Coolrunnins
Tue 5 Oct 2010 00:05
13:02.185N 88:14.019W
Departed at 10.30 with a sad farewell to El Salvador. Barillas is a really special peaceful place and the people there could not have been nicer and more generous. Enrique or deckhand made it after a 3 day bus ride from Mexico.
Just off the Gulf of Fonseca now, which marks the border with Honduras, making 5 knots with all sail up. Sea calm and after the pilot boat guided us out, see below photos through the impresive Lempa shoals, smooth sailing all day so far.
Fuel pump on the generator decided to start spraying diesel all over and that will be a project for tomorrow. Always something !
Headed for a famously beautiful bay called Santa Elena in Costa Rica, just over the border with Nicaragua. Maybe there Wed all being well.
Jason just caught a truly huge fish and after an epic struggle landed it and another for supper tonight.
Weather so far very good.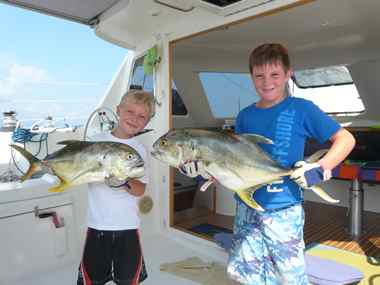 ---