Sigo viendo tierra..... :)

Coolrunnins
Mon 5 Jul 2010 16:02
21:35.206N 104:23.743W
.... y no se si es un buen sintoma o no? Sera que vamos muy despacio o simplemente que el dia se pasa muy lento hay hay que aprender a disfrutarlo asi. Los chicos terminaron agotados entre correrias y pleitos asi que Sebastian esta en brazos de morfeo y Jason se acaba de despertar. Segun CHAVA (nuestro capitan convicto) la veremos tierra hasta maniana por la tarde. De cualquier forma es un dia lindisimo con muy poco viento pero suficiente como para avanzar solo con velas. Ya perdimos un anzuelo por ir muy rapido y no poder traer el PEZ a bordo, el segundo un dorado lindisimo pero algo chico y muy "chucaro" asi que en cuanto estabamos trayendolo a cubierta salto y se nos fue de las manos :(
Pacientemente esperamos aun al tercero que debe ser el mejor de todos para un cevichito o en su caso a la parrilla dependiendo de la hora!
Son las 6:00 pm y estamos..... mmmm claro en alta mar ! Cuando reciban esto nuestra posicion sera diferente a la que tenemos ahorita asi que lo dejo para luego. Hora de hacer la cena para que los capitanes puedan tener un buen descanso antes de sus "turnos". Se nos acerca la noche asi que pedire nuestra gran bendicion al Senior que nos cuida desde arriba junto con los dioses Neptuno y las fuerzas marinas que nos acompanien, cuiden y protejan y sera hasta maniana. Buenas noches a todos.
Y buenos dias tambien a todos!!!
Ya no vemos nada de tierra..... desde nuestro primer y lindisimo sunset de ayer.
Perdimos coneccion de internet y la verdad que estuvo tan movido que ni Paul quiso insistir en ello!! Es una maniana maravillosa de verdad con aun oleaje "moderado" pero NADA en comparacion a ayer por la noche. En ocasiones pensaba que La Cruz (Pto. Vallarta) nuestro PRIMER puerto de llegada tambien seria MI ULTIMO!!! UAUUUU asi de feo pero sin embargo debo decir que sera por los rezos y pensamientos de todos ustedes pero en ningun momento senti el miedo o angustia que pense poder tener!!!!! Las estrellas fueron maravillosas (bueno lo que pude ver por el costado porque ni me pude asomar!!)
Seb fue el primero en estar de pie con una gran sonrisa viene a verme y me dice: MAMIIII "dormi en cubierta TOOOOOODA la noche" y asi fue efectivamente junto con Jason y yo que nos era imposible estar dentro del catamaran. Con Chava o con Paul nosotros bien juntitos junto al timon hasta que Jason tenia mucho frio asi que nos arriesgamos a bajar a la cabina y fue mas que susto el puro cansancio que nos privo en brazos de morfeo. Dicen que a quien madruga Dios le ayuda..... bueno fue el unico que vio un delfin saltando y como cayo el mini calamar en cubierta!! SSIIIII velardita uno de ellos que dicen que abundan por aqui y que crecen hasta mas de un metro!! Pero este no tiene mas de 15 cm y ya esta como carnada !!!
Y ustedes que dicen??? El primer comentario de Paul esta maniana.... Te vas a duchar?? Sin duda que "NO" (digo yo, para que bajar al banio cuando no es absolutamente necesario?) Segun el me sentire mucho mejor, yo digo NI MAIS! veremos como se desenvuelve el dia y mis animos :) Claro que si me puedo deshacer de la cabeza de MEDUSA (acertadisimo comentario de mi sabia madre) que tengo seria buena idea asi que quiza con esta intencion me "aventare" a una ducha cuando mi companiero CHAVA este en su descanso y asi la puedo hacer en cubierta!!!
Jason se ha despertado y esta con el mismo dolor de encias, muelas etc etc. Segun la dentista le estan creciendo las muelas de los 11 anios pero por su molestia parecen ser las del juicio!!!! :( y por supuesto con esto no puede comer y tampoco se siente muy bien.
Hasta prontito que ya tenemos que mandar EL REPORTE DEL DIA!
Besitos a todos.....
PSJS
ENGLISH SPEAKING PEOPLE....
Out of the shelter of the Cerralvo Channel into the Gulf of California, open ocean but so far swells around 4 ft. and pretty comfortable. The only down side sailing in WRONG direction, although Mazatlan is apparently worth a visit which is where we may end up being blown to. Wind may change during the night.
all the best and hope to write some more tomorrow...
Well it is the morning already... Lost connection and even Paul couldn't be bother due to the rough weather !! OH Yes, it was VERY rough (at least for me and the boys who can not still feel 100%). According to Paul we are going like a steam train 6 to 7 knots all night and still up to now. 98 miles off the coast of Mazatlan which is not bad at all!!! :) Doing very well. Cebiche and beers tomorrow lunch time in the Marina (as per his forecast!! ) I just REALLY wish :)
Very early morning Seb was the first up and saw jumping dolphin, and squid on deck, after a while (when Captain Paul woke up) he showed him some flying fish that "landed" on deck. Weather calmer and boat slower.
Shower or not shower...... According to Paul it will make me feel much better, to me it is just NO WAY something like that and going down deck will make me feel better. Perhaps a cold beer in a NOT MOVING place will.
Time to send you the MORNING REPORT ..... bye for now :)
Love
PSJS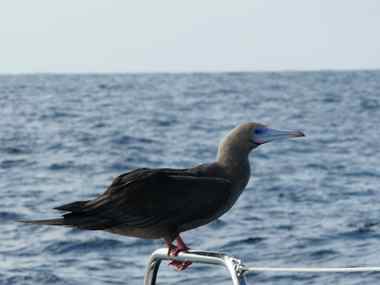 ---