Exciting Morning

Coolrunnins
Tue 20 Jul 2010 03:14
19:17.954N 104:50.166W
Anchored in a very pretty bay last night, and at the crack of dawn headed in to the beach to run the surf into the jungle mangrove river, that runs out to another beautiful beach the other side of the peninsular (about an hour each way).
Anyhow, big surge/surf at the mouth and managed to damage the dinghy prop hitting rocks trying to beat the next 6 footer in before we were rolled. All a bit frantic but made it in with just a propeller and pride dented. Huge surf at the moment!
Beautiful trip through an hour of jungle river and mangrove tunnels with herons, egrets, and kingfishers. No Crocs spotted but Im sure they were around. Huge red and purple crabs kept the boys happy.
Apparently this is one of the "cruisers holy grails" on the West Coast route and it lived up to all the hype. No other boats here so we had the place to ourselves. Really pretty and very unique.
Tied up at a lagoon at the other end and had a superb breakfast on the beach in the little village, before heading back to run the gauntlet of the inlet again. Less drama this time, but still a bit hairy and timing was everything so as not to be rolled in the surf.
Back onboard safe and sound, and our guard Dolphin who Seb had a swim with last eveing continues to patrol the boat :) We had to move the boat further out as the surf was getting a little close! Hopefully we are now in a safe position as dusk falls.
Headed to the town and marina at Barra Navidad, which has a great reputation, so we will see. Its only 12 miles South of here, and we hope to leave very early.
Buenos dias y a correr....!!
Los arreglos comenzaron desde la noche en que les dijimos a los chicos que iriamos a una nueva aventura y que solo tenian que tomar desayuno, lavarse los dientes y estar listos que el resto de arreglar, limpiar etc lo hariamos al regreso.... ya se imaginan ellos felices :)
Asi fue temprano en la maniana nos dirigimos a nuestra divertida expedicion a un rio/manglar... realmente no sabiamos pero era nuevooooo para nosotros!! Todos a bordo del dinghy, con cierto nerviosismo especialmente Jason quien estaba incomodo por los comentarios de papa: "Cuando YO diga que se tienen que bajar del dinghy se "TIRAN" lo mas rapido posible".... bueno con toda honestidad Jason NO era el unico nervioso con ese comentario pero yo como mama gallina no se lo podia demostrar no?? asi que muy calladitos nos acercamos lentamente a la orilla donde veiamos que la racha de olas venian con nosotros (aunque no muy grandes) pero igual nos seguian.... esperamos tranquilos hasta que de pronto EL GRAN CAPITAN con mucha seguridad pero tambien seriedad empieza a acelerar y yo digo "AGARRENSE FUERTE"..... una y luego dos y hasta que perdimos cuenta de las rocas que chocaba el motor todos con cara de panico (me imagino) y de pronto el grito inesperado de nuestro capitan "TODOS FUERA DEL DINGHY"!!!!!!!!!!!!!!!!!!! Como se imaginaran de inmediato y casi sin pensarlo los 3 de un solo salto ya estabamos en el agua (P.... QUE OBEDIENTES!!) y de pronto : "empuja!!! JALA!!! nos quedamos en la playa (decia yo a Paul), a los segundos Paul dice : SUBANSE!!! y yo... "mejor nos quedamos y nos encontramos mas adelante" mientras tanto Sebastian estaba en un llanto y Jason que le pegaba de gritos! yo insisti en que mejor nos quedaramos (los chicos y yo)?? entonces con una voz muy fuerte y poderosa (por no decir un GRITO de padre y senior nuestro) Paul dice... TODOS AL DINGHY AHORAAAA!!! es entonces donde inmediatemente entendi cuan cierto es "Donde manda capitan NO manda marinero" levante en peso a Sebastian y practicamente lo tire en el bote mientras le dije a Jason que se arrime y de un solo salto medio atletico yo tambien estaba en el dinghy!!! UUUUAAUUU se imaginan todo eso en menos de un minuto o dos???
La verdad que les cuento esto con una gran sonrisa ahora y honestamente si que todos nos asustamos (inlcuido Paul me imagino) pero fuera de bromas debo decir que fue una super maniobra de mi capitan (mis respetos) que a parte de saber leer las olas tiene un control excelente en botes y dinghys tambien y es algo que siempre debo tener en mente!! Pensaran que estoy loca pero estoy convencida de ello de lo contrario no estariamos aqui ni haciendo estas cosas. Los chicos sin duda estuvieron felices de poder llegar finalmente al otro lado aunque todo esto paso en un tramo que no tenia mas de 20 metros!!! y en un tiempo quiza de un minuto o dos???
Luego pasamos una maniana realmente maravillosa paseando por la famosa "vena" como le dicen aqui que es en realidad un medio pantano lleno de manglares lindisimos y en gran parte de ellos esta tan tupido que se forman unos tuneles, luego de casi una hora llegas al otro lado de la bahia donde encuentras un pueblito lleno de restaurantes grandes tipo el sur de Lima todos con cuchumil mesas y sillas de plastico con una comida delicicosa y unos huevos rancheros aun mas ricos que los que hemos tenido desde Chiappas!!
Nuestro regreso y experiencia en el dinghy al bote fue menos dramatica pero con otro poco de susto con Sebastian totalmente encima mio y Jason agarrado a morir de las cuerdas del bote. Llegamos felices como lombrices a encontrar an nuestro amigo el delfin quien nos da compania desde nuestra llegada la tarde de ayer!! Una maravilla realmente, un delfin adulto enorme y de color oscuro y Seb se metio ayer en la tarde a verlo de cerca y le paso a unos DOS metros!! Claro que todos los otros 3 maricones mirando al chiquitin desde el bote!!!
Una maravilla y bendicion de Dios, espero que ustedes esten disfrutando con nosotros !!!
Un beso a todos y hasta pronto!
Marisol y piratas!!!!
Les mandamos algunas fotos....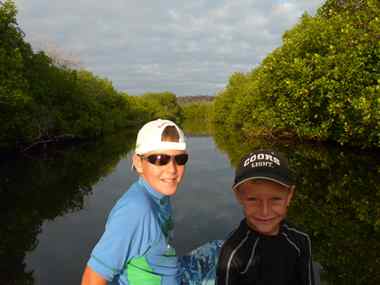 ---