Horta

Ocean Gem
Geoff & Eileen Mander
Sat 3 Jun 2017 11:00
Date: Saturday 3rd June 2017
Position: 38:31.975N 28:37.503W

After 13+ days at sea, and once we had rested to get energy back, we really enjoyed our stay in Horta. Here are some photos of the island:

The sea wall in Horta's harbour is famous for the graphics left behind by visiting yachts. Here are some examples:






And here is the image that Violeta created to mark Ocean Gem's passage through the port:






Next door to the island of Faial is a a volcanic island called Pico. It is the most recently formed island in The Azores and is still very high. It looks splendid when viewed from Horta: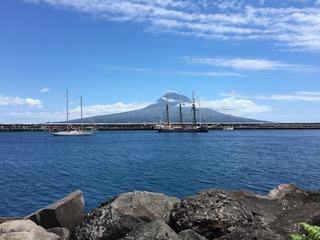 A short walk to the west of Horta is an older harbour formed from the sunken crater of a small volcano named Monte de Guia.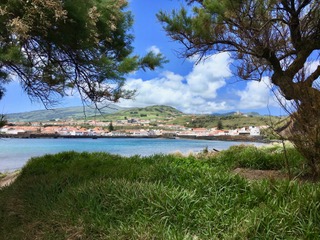 The centre of Horta has many grand old buildings:






One of the most famous locations amongst the sailing community is Peter's Bar and restaurant: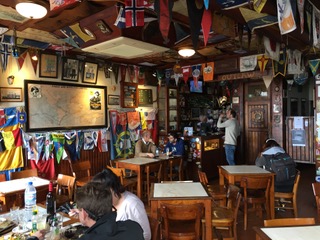 The highest point of the island is a spectacular volcanic crater now verdant with the many plants and mosses that have prospered in the moist and fertile soil: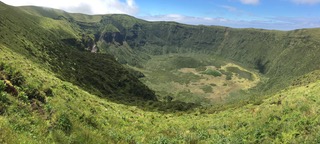 C



Wild hydrangeas grow in many places on the island. In fact the farmers have used the plant to form many hedgerows that divide fields;






At the very western end of the island, at Ponta de Capelinhos, is another example of recent volcanic activity, this time from around 1957. An underwater eruption about 1km out to sea, beyond an existing lighthouse, produced a new island about 100m high that eventually was joined to the mainland. The material was mostly fine ash and gravel that devastated the surrounding area. The old lighthouse still remains, now abandoned, and winter storms have eroded a large part of the new island but it is clear from the pictures below photographs that a lot of material still remains. All of the land to seawards of the ruins is newly created by the eruption.




---