A Coruña - Arrived

Ocean Gem
Geoff & Eileen Mander
Sat 24 Jun 2017 12:33
Date: Saturday 24th June 2017
Time: 13:33 (UT +2)
Position: 43:22.04N 8:23.16W
Distance travelled from Ponta Delgado: 855NM
Total Time: 6 days
Total Engine Hours: 97.4 (4 days 1.4hours)
Total Fuel Consumed: 294.24 litres
We continued to motor towards our destination. The sea really was extraordinarily calm.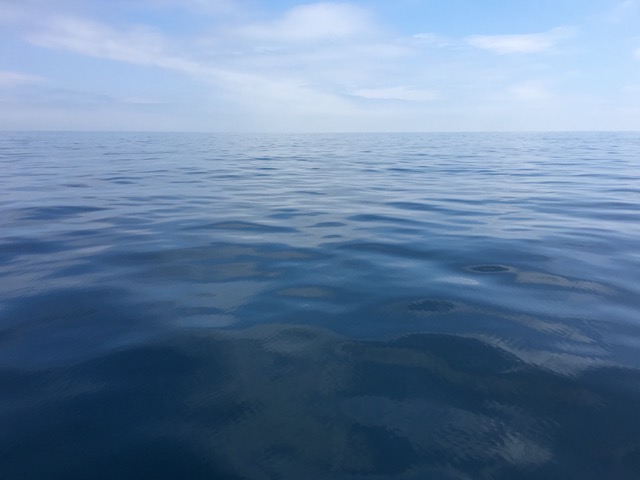 Towards twilight we started to cross the shipping lanes off the NW corner of Spain which we would somehow have to work our way through. There were 2 south going lanes and 2 north going lanes with isolation zones between them. After a week of relative isolation we were suddenly near to several big ships all in line and close together, each travelling at 3 times our speed.
We successfully navigated our way through the south going lines of traffic only to then have to find our way through a similar arrangement of ships travelling northwards. The shipping lanes were about 20 miles wide in total so it took 3 hours or so to work our way through. We thought we were clear but as we emerged from the last of the lanes we could see a ship about 5 miles away travelling outside the lanes but on a converging course with ourselves. We thought that we'd be able to sail around it's stern, but as we got closer they called us on the VHF to tell us that they were towing an unlit large commercial fishing boat some 200 metres behind them. Oh well, after some 800+ miles an extra 200 metres was not that much extra distance to sail.
As dawn broke we continued to motor towards A Coruña, eventually arriving early afternoon. We initially went to the fuel dock to refill our tanks before being redirected to a berth. It was so pleasant to be able to turn off the engine, crack open a few beers and look forward to refamiliarising ourselves with the delights of this splendid city.
This is old fort guarding the entrance to the harbour.
Here is a view of the marina with the old town lying behind.
---