Santo Antão

Ocean Gem
Geoff & Eileen Mander
Fri 21 Dec 2012 12:00
We decided that we would like to take a look at the nearby island of Santo Antão, the first island we had seen as we entered Cape Verde waters. So for a change we left the boat in the marina and caught the local ferry to the island, about 50 minutes sail away.
The island is volcanic and high, at just under 2,000 meters. It's height allows it to create clouds that keep its north and western sides wet. This creates distinctly different climates, with good rainfall on the wet side, and practically none on the dry side. So far we had only seen the dry, downwind side of the island and wanted a closer look at the other side.
We were met at the port by our pre-arranged guide and driver, Pascal , a Belgian expat who is a local entrepreneur, sports fisherman and all sorts of other things maybe best left unsaid.
We took the old road that crosses the island from south to north passing right over the highest parts. It was originally a sand road, built by slaves; but during the Salazar regime prisoners from Portugal and elsewhere were used to laboriously rebuild the road by hand using cobbles made from basalt chips. It's still in good shape as can be seen from the pictures.
Intrepid travellers, both old and new
We drove through the dry, almost barren lower slopes, the unremitting orange/brown colour of the rocks being broken only by a low green bush with small edible seed pods, name unknown, that was apparently imported from Brazil, because of its ability to survive in almost water free environments. As we approached the highest parts, that are often enclosed in cloud cover, the colour palette quickly changed to green. At first the views were quite pastoral with mountain meadows and woodland, but as we passed over the top to the rim of the now extinct volcanic crater the landscape became more dramatic. The overall impression was similar to that of Madeira, only more breath-taking.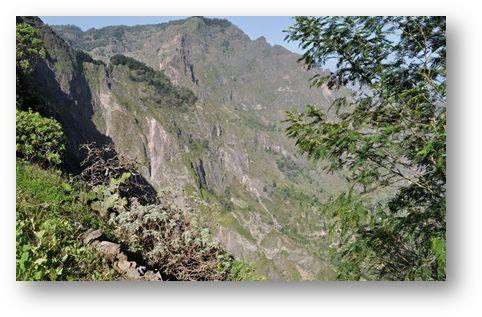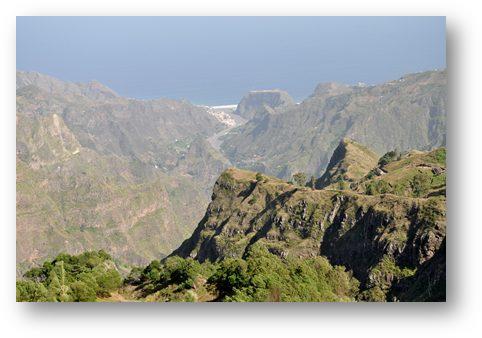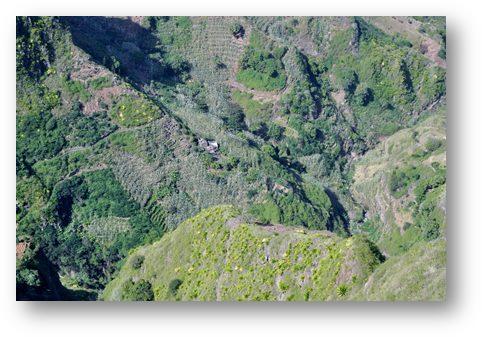 As we descended to the lower slopes the vegetation increased considerably. Looking southwards back up the steep valleys the impression was that of cascades of sharply pointed, triangular, rock buttresses all clothed in the brightest of greens. The lower slopes were a garden of Eden with every available square inch of surface being used by plants or trees, most of them producing food or other resources. There were bread fruit, mangos, bananas, yams, manioc, coffee bushes, and many other crops that I could not identify. And growing through them all, wherever it could get a foothold were swathes of sugar cane, each topped by a golden frond about two foot long which when backlit by the sun gave them the appearance of each having been kissed by an angel.
It was all farmed, but completely unlike the bridled monoculture that I am more familiar with. I am not sure how efficient it was, but it seemed to be very productive and the feeling of sheer contentment it leaves you with when you are amongst it all must be worth more than can be measured.
Once down to sea level we drove a short distance to a small fishing village where the daily catch was being processed. If I could catch just one mahi mahi as sizeable as some of those we saw being processed then I would be very happy.
And here is a view of one of the traditional Santo Antão village houses.
What a fantastic day! So far Santo Antao has been the highlight of the trip. We've still a few more islands to visit but it is difficult to see how they can top what we have seen so far.
---