Santiago de Compostela

Ocean Gem
Geoff & Eileen Mander
Sun 25 Jun 2017 19:39
Date: Sunday 25th June 2017
Location: Santiago de Compostela
On Sunday Paul and I caught the train to Santiago about 30 minutes away from A Coruña. It's a beautiful medieval Cathedral city surrounded by a modern university town. In days past it was a popular destination for pilgrims walking along the length of norther Spain.
I took a number off pictures of the town and here are a few of them.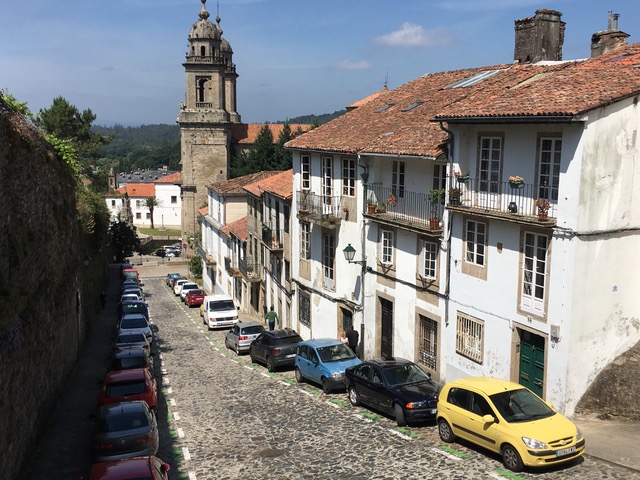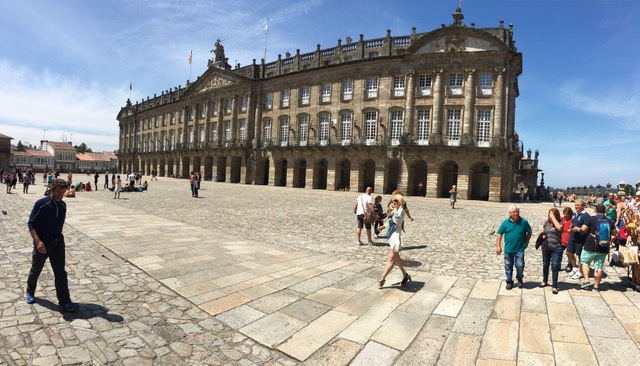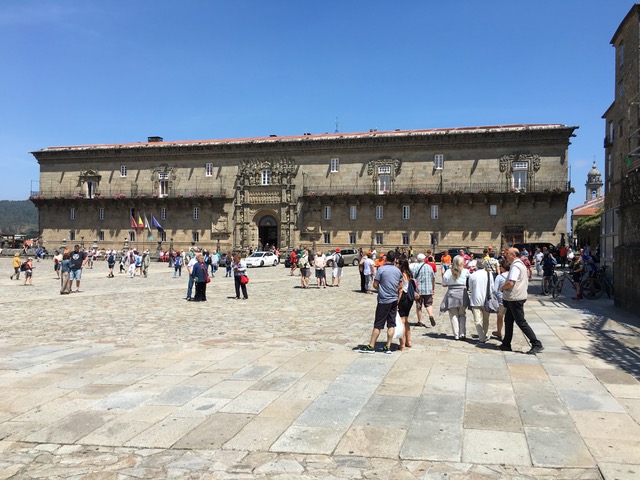 \
Below is an good example of the typically minimalist decor to be found in Spanish Catholic Cathedrals.
In the foreground of this picture you may notice a couple of incense burners. They are actually quite large, several feet tall, and they are suspended from a long rope maybe 40 feet up to the vaulted roof of the cathedral. The rope passes through a pulley block attached to the roof and back down to floor level. When I had visited the city in the past there was a congregation in the church and they were being treated to quite a spectacle. Several strong men were pulling on the rope, in a rhythmic way so as to cause the incense burner to swing from side to side. But this was not a gentle swinging. After a few minutes persuasion it was almost touching the roof at the extreme end of each swing. As it reached its maximum speed just above the heads of the congregation it was travelling at a truly dangerous speed. If one of the congregation, touched by a moment of divine passion had risen to their feet to cry Allelulha at the wrong moment then the burner would have separated their head from their shoulders.
I'm not sure what sort of incense they were burning but its odour was strangely similar to the herbal mixtures that the locals in The Caribbean had been smoking. Even stranger was to see the congregation leaving at the end of the sermon and heading straight for the local Cornish pasty shop.
And then we returned to the station to catch the train back to A Coruña.
---